75% of women with dependent children are in employment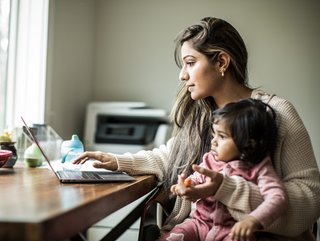 Credit: Getty Images
Findings from ONS show that there are more women with dependent children in employment than men and women without dependent children
Three in four mothers (75.6%) with dependent children are in work, reaching the highest level in the equivalent quarter over the last 20 years (66.5% in 2002), according to data released by ONS. These figures show that there are more women with dependent children in employment, and women or men without dependent children.
When it comes to special working arrangements, such as flexible or term-time hours, 33.3% of mothers reported an agreed special working arrangement, compared to only 23.6% of fathers.
Women participate in more unpaid childcare than men
Employed women were also found to spend more time on unpaid childcare (an average of 85 minutes per day) and household work (an average of 167 minutes per day) than employed men with dependent children (56 and 102 minutes per day, respectively).
"It is great news that the proportion of mothers in the workplace is rising and a clear sign that we are modernising our employment practises to make it easier for women to return to the labour market after childbirth," said Andrew Mobberley, Head of Sales at Broadstone, a leading independent pensions and employee benefits consultancy.
"However, there is still a clear gender imbalance in the total workload that mothers are bearing once they return to the workforce," Andrew continued. "Mothers are typically spending more than an hour and a half every day on household chores and unpaid childcare than fathers.
"Despite a third of mothers having special working arrangements, a higher proportion than fathers, the extra burden of unpaid housework and childcare is clearly likely to take its toll on their professional and personal lives."
The COVID-19 pandemic did cause the burden to even out, however, now employed women with dependent children spent more time on all work combined (~496 minutes per day working from home, working away from the home, on unpaid childcare and unpaid household work) than employed men with dependent children (481 minutes per day).
Creating an inclusive environment for working mothers
Although the data shows that there are more women with dependent children than ever in employment, women still face a number of barriers when returning to work after having a child.
Andrew says: "Becoming a parent fundamentally changes how people view their working lives and it is crucial that employers recognise this. Taking steps like increasing flexibility of hours, working from home or implementing term-time hours to support parents deal with their childcare arrangements are important.
"Employers can go even further to support their staff too, like offering working parents emergency childcare help should a sudden, unexpected need arise. We are also seeing some employers looking at on- and off-site summer camps to support parents or partnering with third-parties to make it easier and less stressful for mothers and fathers to find these resources themselves."