8 minutes with Paulina Laurie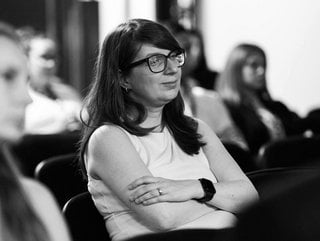 More women are wanted in the tech world, and Paulina Laurie is on a mission to make sure that this goal is achieved
The gender gap is closing for the tech industry, with large global technology firms predicted to reach 33% overall female representation in their workforces in 2022, according to Deloitte. That being said, there's still a long way to go, but Paulina Laurie is doing all she can to make the tech industry a safe, inclusive and welcoming environment for girls.
Start us off by telling us a bit about yourself and your career so far.
I came to the UK from Poland in 2009 after graduating from university with a Master's of Psychology. It was a bit of a struggle at first, because I moved during the peak of the recession, so no one wanted to hire me – even for free! I eventually found an internship with a global recruitment firm and have since moved to Frank Recruitment Group, where I currently work as Head of Women in Tech.
What does a typical day look like to you in this role?
My role is very varied, but I spend a great deal of time focusing on the recruitment of women in tech, networking with women in tech and advising on inclusive hiring. I also look after a lot of partnerships too, as I believe that by collaborating with other organisations – whether they are private companies or public bodies – we can actually shift the dial and create a change. At Frank Recruitment Group, we also work on a lot of content related to women in tech. For example, last year, we launched a white paper; this year, we released a video series and we now have a mentorship programme called, 'Mentor Me'.
As I oversee the recruitment team, I do quite a lot of coaching to help women progress in their careers, while ensuring the tech industry is an environment they want to stay in. I also work with clients, to tell them how to attract more women to their business and how to retain them, too.
What led you to this current path, and why has encouraging women into the tech industry become a passion for you?
There were two life events that I believe led me to this position. Firstly, I climbed the ladder in a company that had very few female employees, and, over time, I became an informal mentor for other women and junior colleagues, as they were reaching out to me for advice.
Secondly, after I became a mother, I realised how scary it is to come back to work after a year on maternity leave. I remember thinking that I need to find a way to juggle work and childcare, while getting back into a professional headspace. This experience made me realise that I didn't want other women to feel that way, while reassuring them that they can still be successful while fulfilling their dreams. To support new mothers, companies need to ease women back into the workplace, so they can continue their growth.
So as an expert, what do you say are the most important factors to achieving inclusive hiring?
Companies can achieve this in many different ways, but the starting point should always be your own business. Reflect on what the company is doing well and what is attracting women to join, as well as what could be done better. Also, when recruiting, it's important to ensure there is a diverse shortlist of candidates, because that's where everything starts.
A lot of companies come to me and ask how to encourage more women to the business, but I always say that they really need to focus on retention and inclusivity. This usually sparks follow-up questions: "What is inclusivity?" – well, I say it's about thinking of everything, everyone and every stage. For example, a company could say that women represent 30% of their employees, but that's not always accurate, as 25% could be at entry level and only 5% at senior level. With this in mind, it's so important that companies consider how they are approaching progression and promotion by identifying where the biggest drop off areas are.
A topic that is very important to me is addressing microaggressions and the type of language that is used at work. Maybe there are some jokes that, in the past, were seen as acceptable, but now they're not, so we need to make sure we're calling out those who use inappropriate language. Language defines us, so we need to address how we speak about men and women in the workplace. For example, a woman may be upset and a man may be annoyed – the latter obviously seems more powerful and less emotional.
What makes the tech industry a great choice for girls and women?
Tech is a very well-paid industry, and there are a lot of niche sectors that provide opportunities for individuals to thrive. There always seems to be more jobs than there are candidates, so companies are competing for very good employees. It's also a very flexible industry, so you can move around and pursue various pathways. The tech industry also allows individuals to get up close to some of the latest tech advances – so it can be a very exciting path to follow!
Likewise, what advice would you give to girls or women considering pursuing a career in tech?
Definitely go for it and explore your options. A lot of people think that all tech jobs are the same, but this is definitely not the case as different roles will require different skills. I would also advise getting a mentor – whether that's a man or woman – to provide some guidance, and maybe even organise introductions to other people. Even if your inspiration comes from someone who may seem out of reach, such as a celebrity, I would still recommend trying to contact them. It may not turn into an ongoing relationship, but they may send an inspiring email or something of a similar nature in return.
For those who find themselves in male dominated environments, I would encourage them not to give up. It can feel intimidating knowing you're one of few women, but it's so important to continue on your path. On the other hand, I want women who are already in careers to know that it's never too late to change and enter the tech industry.