8 minutes with Pinar Akiskalioglu, founder of TAKK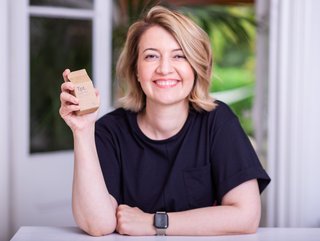 Pinar Akiskalioglu
We spoke to TAKK founder Pinar Akiskalioglu to find out more about her mission of producing eco-friendly beauty products
Pinar Akiskalioglu was born in Turkey and studied econometrics at the University in Istanbul. She ventured into the world of corporate beauty after graduation and eventually climbed up the ranks to become the head of marketing at Henkel, the producer of several consumer superbrands.
At the age of 40, she decided to change her career path and set an example to the beauty and business industries by founding TAKK, an ethical beauty care business. Pinar then went on to establish Punk Business School, which offers a new type of business education focused on creating more empathetic and intuitive business leaders. She currently divides her time between managing her two businesses and serving as a board member at Ricoti, a renewable energy company.
In addition, Pinar also works as a consultant at Oxford Garage, a mentoring hub for new startups. Pinar has also studied leadership at Harvard and business at Saïd Business School at the University of Oxford.

Hi Pina, what inspired you to launch TAKK?
There came a point at Henkel when I started to seriously question my job. The focus on shifting products and creating more products to sell made me disheartened and concerned for the future.
I no longer believed what I did was making people happy or contributing to society. I left because I wanted to do something to disrupt the beauty industry, to force a rethink. People are bombarded by too much choice and this leads to dissatisfaction.
Not only that, the manufacturing of too many products and the focus on unnecessary innovation leads to pollutants and is a waste of resources.
Through TAKK, I believe I am contributing to building a better business world where humanity is at the heart of retail and beauty.
Talk us through TAKK's sustainability credentials – why are these important to you?
For too many businesses, the sole concern is the pursuit of profits. People are bombarded with choices, and marketing is focused on making us buy products we don't even need. In reality people – and particularly the planet – need no more than a few simple products.
This is why, at TAKK, we aim to reduce unnecessary decisions by only selling a collection of essentials, the actual basics that everyone needs in everyday life.
The products we sell are suitable for all genders – one shampoo, one soap, one razor. We use locally-sourced high-quality ingredients. I believe that the creation of a circular model is a key solution against waste, and we aim to close the loop with various innovations. Because of all this, when a customer makes the choice to buy from TAKK it really does matter - and that's what's important to me.

How does TAKK promote ethical consumption?
We are a peaceful shopping platform and we aim to make people's choices matter. All we share with the consumer are the cold facts: what the product does, how it's produced and who produced it. We don't run promotions or make crazy marketing claims for products.
We eliminate the noise, which people are very used to when they shop. This helps people have a silent moment to decide before they purchase anything.
With us, there are no pop-ups, no motivation for you to spend more money. We don't encourage people to buy other products – a very common approach in our industry is when you buy a face cream, you're always recommended another. One product is never enough. We don't do these kinds of things. You want to buy shower gel? Just buy it, and we'll see you next time.
Please tell us about Punk Business School.
Punk Business School is a new type of business education aimed at creating more empathetic and intuitive business leaders. While most business education is centred on the know-how of making a profit and climbing corporate rankings, we offer practical philosophy education to business professionals.
Philosophy for business leaders is not a new concept, but it is only really available to top CEOs, who already have years under their belt, and at a hefty price. Through Punk Business School, I want to make it accessible to all. We offer self-education boxes with handpicked books and practical case studies as well as one-to-one and corporate coaching.
How does it encourage humane business practices?
We believe leaders should always be connected to their human side. And if someone decides this is the approach they want to take to leadership, there's a whole story that needs to start after that.
That's where we come into the picture – we help people find their values and motivations, what they care about. To reflect in an educated way around those areas, to define who they are as a leader.
Once people start leading as human beings, they have more flexibility in thinking. Employees see them as human and open up more, really sharing what they think. The benefits of a diverse workforce can truly be appreciated - because a workforce cannot be authentically diverse if people are not bringing their true selves to work. This is all so important in terms of creating the right climate in an organisation.
What has been your greatest career success?
The definition of success, as dictated by the business world, is often getting promoted or getting higher pay. It's very simple mathematics. Even for entrepreneurs, often the only criteria for success is how much your company is valued at. That's it. Again, simple mathematics. It's a system designed to keep things going as they are.

I could be the head of a big global corporation now, and by the current book, everybody would think I'm successful. But I might not necessarily feel it. My success has been breaking away from this world and finding the freedom to define success for myself.
Being able to embrace this different – much more sophisticated and complex – approach has been my biggest success, and allowed me into a world where I can redefine the parameters in which my business operates every day.
Likewise, what has been your greatest challenge?
When you're working to create an impact and there are a lot of people trying to get you down, because they don't want to believe things can be changed – that's not only my biggest challenge but a constant challenge. As an entrepreneur wanting to change things, it's already very hard, and when you're faced with that pessimism it pulls you down and it's very easy to feel demotivated.
There are a lot of people who are similar to me, trying to make sense of business, and genuinely working on true innovation to change things. Being around these like-minded people makes me feel stronger. Celebrating each other and what we do. Understanding that this is the challenge we are facing every day and smiling, even joking about it. This gives me the fuel I need to keep going.
What advice do you wish you could give your 15-year-old self?
I would say take care of others and the world around you - people, the environment, nature. Always think beyond yourself. Even if it sometimes doesn't feel like it – and people see things differently to you – at my age now, I know this pays off. It pays off because you will end up being a happier person because you feel you are contributing more to this life. This is the path to happiness.