97% of Gen Z experience workplace burnout, new study finds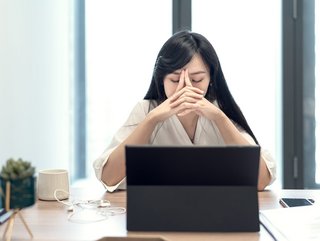 Credit: Getty Images/Lu ShaoJi
Gen Z is facing the greatest impact of burnout with 97% of respondents stating they feel overwhelmed and exhausted in the workplace, according to Cigna
Young professionals are facing burnout by the age of 24, according to new research by global health service company Cigna.
The report titled "Exhausted by Work - The Employer Opportunity", found that burnout has increased over the past three years due to the cost of living crisis and repercussions from the COVID-19 pandemic, causing young people to feel overwhelmed and exhausted in their careers.
"Exhaustion from work isn't new. In previous economic cycles, we have tended to see workers trend back to employer/employee norms and increase time at work as they try to ride out the storm," Arjan Toor, CEO of Cigna Europe says. "However, the pandemic appears to have caused a deep shift in these accepted norms."
Generation Z are the most burnt-out generation
The research, which studied 12,000 adults, found that those aged 18-24 – known as Generation Z – were impacted the most, with 97% reporting feelings of burnout and 86% feeling stressed.
What's more, 71% of Generation Z report feeling more overwhelmed than usual, with 44% explaining that working from home causes work to feel transactional with less opportunity.
"Employee stress levels, which dropped slightly in 2021, are now on the increase, and it's the younger generation who are feeling the greatest impact," Arjan adds. "Across Europe, 77% of employees said they were stressed, but this rises to 86% for Gen Z, aged 18-24, and 81% for 25-34-year-old Millennials.
"We also see unmanageable stress now impacting a quarter (25%) of 18-24-year-olds, along with a huge 97%, experiencing work burnout symptoms with worrying symptoms that include headaches, loss of appetite and difficulty sleeping."
As a result, two-thirds of Generation Z has begun to re-evaluate their time, lifestyle and priorities while considering making changes.
Likewise, half of those aged 25-34 years olds shared that they would take a pay cut to work fewer hours.
Employers need to "act now" to retain staff
To ensure employers are able to retain staff, the report urges them to "act now", while investing in their development and enabling them to engage in meaningful workplace activities.
"There's a gap in expectation between what employees want and what they're currently getting," Arjan explains. "In the current climate where talent is either jumping ship if work conditions aren't right or they're Quiet Quitting – doing the bare minimum at work because they feel undervalued for the effort put in – employers need to step up to retain and attract that talent.
"For example, currently only just over a third said they are offered flexible working hours and location despite it being the top, non-financial criteria for job hunters. There's also a need to examine the role of the office and ensure time spent there supports productive engagement, rather than the cubicle-led or headphones-on environment of the past."