Allyson Felix and Athleta launch childcare initiative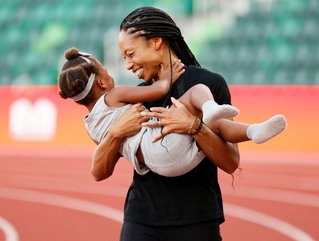 Credit: Getty Images/Steph Chambers
Allyson Felix and Athleta have partnered with &Mother to provide free childcare to high-end athletes, to allow mothers to train while receiving support
As the United States' most decorated female track and field athlete, Allyson Felix has been advocating maternal healthcare for women for years – with a particular focus on ensuring athletes have access to childcare support.
The 11-time Olympic medalist has said that the burden of child care costs is "the biggest barrier" to women competing in high level athletics.
"I felt like I had to win all the medals, do all the things, before I could even think about starting a family, and that's something that I don't want my daughter to feel," she told NPR's Morning Edition.
With her sponsor Athleta and non-profit &Mother, Allyson launched an initiative to provide free childcare to athletes, coaches and staff at the US Track and Field championships. Although Allyson revealed that it would be the last time she would compete in the event, the initiative will allow other mothers to train while receiving the childcare support they need.
In addition, Athleta, through the Power of She Fund, and the Women's Sports Foundation (WSF) has opened a third round of childcare grants providing female athletes with US$10,000 for child care expenses. So far, WSF and Athleta have awarded more than US$200,000 in those grants.
On Instagram, Allyson wrote: "When I first raced here I thought I was racing for medals. I chased those medals for acceptance, validation and purpose. Along the way I've learned why I really run and it's for a better future for women and girls. A better future for Camryn."
A driving force for change
When Allyson fell pregnant in 2018, she was sponsored by Nike. She led a protest for change after the company refused to pay her while she was on maternity leave. This led Nike and other athletic apparel companies to change their maternity policies.
"I felt like I was being used in multiple marketing campaigns to tell women and girls that they could do anything when internally I was having such a hardship," Allyson shared.
"What I was asking for was when a woman has a baby to have time to recover to be able to get back to that top form. And essentially, they told me that I could have time but they weren't ready to give all female athletes the time and they weren't willing to tie anything to pregnancy in the contract. And so, for me, that was a real issue and a sticking point."
The Allyson Felix x Athleta collection
In addition to her pioneering work on childcare, Allyson has also seen incredible success with her Allyson Felix x Athleta collection, which has now seen four product drops.
The 2022 collection features a number of versatile garments, including cycling shorts, performance tops and running sneakers.
The range has been made to empower and support women as athletes, mothers and activists, while they break records, break the silence and break barriers.