easyJet fights gender stereotypes with Top Gun remake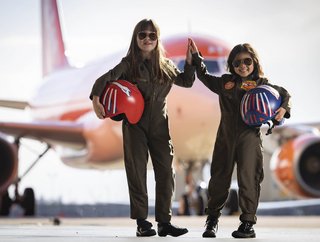 Credit: easyJet
'Calling all Mavericks' is a parody film from European airline easyJet, featuring two young actors in a bid to dispel gender stereotypes in aviation jobs
As only 6% of pilots across the world are women, easyJet has launched a Europe-wide campaign to dispel stereotypes around aviation jobs and to tackle prevailing gender stereotypes of pilots.
In a bid to encourage more girls to join the industry, the airline recreated scenes from the 80s blockbuster classic, Top Gun, in which the lead pilot roles were played by an all-male cast.
The parody film titled 'Calling all Mavericks' features seven-year-old Rei Diec and nine-year old Olivia Joohee-Ridington with the leading roles of Maverick and Goose, and includes remakes of Tom Cruise's motorbike scene, the classroom, and the infamous 'It's time to buzz the tower' scene.
"Top Gun is one of the most famous aviation films of all time," says Johan Lundgren, easyJet's CEO. "So, we wanted to create our own rendition of the movie that was both entertaining and inspiring to a younger audience, to show young people that they don't have to be limited by outdated stereotypes of jobs in the industry, as well as highlight the fantastic career opportunities that easyJet has to offer.
"easyJet has long championed greater diversity across our business and the industry, and while we have made important progress in areas like our pilot community, there is still work to do. Increasing diversity in all of its forms across our airline and creating an inclusive environment where people can be themselves at work is incredibly important to us and is a long-term focus for easyJet, so we will continue to ensure we lead the industry on this issue."
Is gender diversity an issue in the aviation industry?
Research shows that 85% of parents believe that there are misconceptions that a pilot is a job for men. In addition, 48% of 1,500 female respondents shared that when they were younger they saw the role of an airline pilot to be a man's job, and therefore never considered pursuing the role as a career.
This misconception continued through to other roles, such as engineers, as 83% of females grew up believing it was a role for men. In addition, nearly 90% of women polled said that pre-conceptions of jobs for men and women started at school, with 60% of children surveyed sharing that they felt that a pilot was a job for males, with 43% reporting never to have come across a female pilot.
easyJet is set to be flying close to pre-pandemic levels this summer, with many newly qualified female pilots joining the airline in recent months.