Game Changers: Women challenging the perception of gaming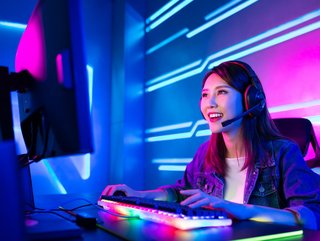 Credit: Getty Images
Gamers have a reputation for being screen-addicted boys that sit in their rooms all day – we spoke to two women with a mission to change this stereotype
Since their introduction in the late '70s, early '80s, the world of video games has become a multi-billion-dollar industry ‒ one that's been predominantly marketed at boys over the years. So, it may surprise you to learn that nearly half of those who play video games are actually women. Despite this, fourteen of the world's top gaming companies revealed that only 16% of women hold executive positions in the industry, according to NewZoo. And, outside of these executive positions, women only account for 24% of the industry's workforce.
But as the video game industry is expected to be worth a whopping US$200bn by 2023, why do we still see such a huge equality gap? We spoke to Lucy Rissik, CEO and Founder, Brotherhood of Brand and Partnerships Director for Women in Games, and Lauren Kaye, Founder of She Plays Games podcast and Marketing Manager for Women in Games, to find out what needs to be done to bridge this gap.
Made by men, for men
Games have always been virtual playgrounds tailored for men. Although we've seen progress from 1989, when only 3% of gaming developers were female (in 2020, the figure had risen to around 30%, according to ResearchGate), women are still without a doubt on the back foot.
But now we've found ourselves in a vicious circle. Women are underrepresented during the development process, which has led to a lack of well-rounded female characters being seen on-screen – and even when they do appear, they're often in skimpy clothing with exaggerated body proportions. Taking this into consideration, could there really be a bigger deterrent for female gamers than only ever being exposed to iterations of characters that are simultaneously marginalised and oversexualised?
"We often see all these incredible games being created by amazing teams that included just one woman – if that," Lauren says. "We almost have a funnel with no diversity, which means that nobody is challenging the thoughts that these people have of how a game should be.
"The press hasn't been very kind to the gaming industry, and studios haven't helped the matter by sometimes allowing toxic, male-oriented practices. It very much feels like an all-boys club, and, if it's an all-boys club, then that explains why men are giving most of the opportunities to people like them."
Even though gaming is often at the forefront of technological innovation, the industry has nevertheless been relegated to the shadows of other creative industries, proliferating negative, and simply outdated, stereotypes. "Video games are often seen as the naughty little cousins to other industries, such as movies and films," Lucy says. "But if you look at technology and how it grows, people often forget – or maybe don't realise – how much is developed through games: AR and VR were both founded over here in the video game industry. For example, there is now a game that allows medical students to practice learning surgery, which is hugely beneficial."
Although the gaming industry may be overlooked as a desirable career path for children, girls in particular are served with yet another deterrent. A study, carried out by Young Gamers & Gamblers Education Trust (YGAM), found that, while playing massive multiplayer online games (MMOs), 28% of female gamer reported being sexually harrassed, 35% reported receivng inappropriate content and 40% fell victim to verbal absue.
"A lot of girls still have to hide their profiles online by playing as men or boys," Lucy says. "We know there's a toxicity issue, but big companies are trying to change – just maybe not quick enough. Although there are initiatives in place, it's important to remember that all internet platforms, from Twitter to Twitch, have similar issues that need to be addressed."
Getting women on the winning team
The big question is: How do we encourage more women into the gaming industry?
Each time, the hard and fast answer seems to be: representation. Breaking up the boys' club mentality that Lauren mentions and proudly hanging a sign on the door that says: "All are welcome", is a sure-fire way to tell people they can join, but until women can actually see others they identify with, little will change.
"It's not enough for women to just come into the industry through entry level roles. There's no career progression there," Lauren says. "Sure, it can be seen through the ranks with men holding the positions, but seeing other women is believing.
"That being said, more women are entering the space, so change is happening. Personally, I want to see more women take on leadership roles. Growing up, I didn't have any female role models in the gaming industry – I didn't even know that they really existed. But, after having daughters myself, I want to ensure that they have as much exposure as possible to their options, so they can make effective career decisions later on."
With this being said, Lucy believes that one of the key issues that has led to the underrepresentation of women in gaming is how the industry itself is depicted to young girls. "Girls need to be taught that gaming is a viable career option," Lucy says. "Many people hold the opinion that school is good and games are bad, completely dismissing the fact that the industry is actually worth US$200bn and employs a lot of people.
"There's a lot of emphasis on encouraging girls to learn to code, but it's definitely not limited to that, either. We need to teach girls to consider careers as art designers, marketers or even to join the financial team for a gaming company – companies still need to fill these types of roles, so if you have a passion for gaming, why not pursue it?"
An industry issue
Currently, though, we're finding ourselves stuck in a vicious cycle. How do we encourage more girls and women into the space, if there are no real role models or incentives to do so and a torrent of abuse waiting in gaming forums? Well, this one is on gaming platforms and developers.
Earlier in the year, the Women In Games France launched the #GenderSwap campaign, which highlighted the ultra-stereotypical representations of women by giving male characters typically female mannerisms and vice versa. Male characters acted out suggestive poses, sensual dances and coy characteristics to mimic the overexaggerated sexualised appearance female characters are often subject to.
There are also a number of platforms working to create safer, more inclusive environments for women. For example, Twitch, a popular videogame live streaming service, broadened its definition of sexual harassment and introduced new guidelines to crack down on hateful and inappropriate sexual conduct on its site.
Mentorship network Limit Break is another great example of a game-changing platform. By pairing leaders in the field with individuals considering entering the industry, as well as those at the start of their journey, Limit Break works to create a more welcoming environment by providing tools to overcome issues girls and women may face, such as imposter syndrome.
In addition, Code Coven, a games' industry-focused classroom, has an accelerator programme that encourages young gaming developers to create their first game, teaching the vital skills needed to create effective portfolios and game pitches.
"I want to be a megaphone for those initiatives like Limit Break and Code Coven," Lauren says. "They have been doing great work on diversity in the gaming industry, so I really want to help those initiatives be seen by the people that need them the most."
Facing the problem head on
The problems facing girls and women in the gaming industry are multifaceted, yet there are several ways in which they can be tackled.
Perhaps most importantly, companies and developers need to prioritise welcoming girls and promoting women to high-level positions to not only act as role models, but to contribute their perspectives on creating more inclusive games and initiatives.
"Gaming companies need to shout change," Lucy says. "Schools and career advisors need to be providing girls with the options available to them within the industry, so they can understand the full spectrum of careers that are out there.
"But also, people need to have their stereotypes challenged. So many people assume that teenage boys play video games in a dark room drinking Red Bull but, in fact, there are more women over 18 playing video games than there are boys under 18 playing video games. More people need to understand that people can be whatever they want to be, and that doesn't stop just because you're a gamer."
Lauren sports a similar view, echoing Lucy's comments in stressing the importance of creating a safe and welcoming environment for girls to join. "Roles are being created everyday," Lauren says. "So, if girls or women are interested in joining the industry, I'd say reach out to leaders in the field, through Twitter or Art Station, for example, and ask for their advice. Every woman in the gaming industry wants to see other women thrive – we're not scary beasts or super competitive people who are gatekeeping the roles.
"I try to do this myself by making my podcast, She Plays, a space where girls can listen to comfortable and welcoming conversation. But I'm also a massive advocate for promoting other channels and initiatives, to encourage women to join the industry and provide them with the skills they need to excel."
"I want people to know that no matter what age they are, whether that be late teens, twenties, thirties, forties, fifties or beyond, the key to seeing more women excel in the gaming industry is understanding that everybody is on their own path. It's important to do what makes you feel happy – so focus on your own journey, not others, and set your sights on where you want to end up in the industry."