Good news Friday, Femke Bol, Dame Angela, UAE Tour Women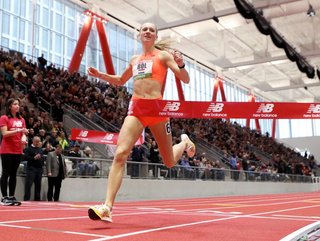 Credit: Getty Images/Maddie Meyer / Staff
This week, we celebrate a new world record, Dame Angela McLean's new appointment and the winner of the UAE Tour Women
Record breaker
Femke Bol, a Dutch athlete, set a new world record in the indoor 400 metres at the Dutch Indoor Championships with a time of 49.26 seconds, beating the previous record set by Jarmila Kratochvílová in 1982.
Femke made a strong start and closed out the record in front of a home crowd in Apeldoorn.
"It was because of all the fans here that I ran this record," Femke said. "Never have I ever seen that many people here. When I crossed the line, I knew that the record was mine because of the noise that the crowd made.
"I was hoping to run the record, of course, but in life, you hope for a lot of things and most of the time it does not happen. I am glad that I did not just get the record, but that I improved it by a big margin."
UAE winner
Elisa Longo Borghini won the UAE Tour Women race, with Charlotte Kool taking the final sprint stage. Elisa's victory was set up by her stage 3 win with teammate Gaia Realini on the Jebel Hafeet mountain finish.
"I am very happy about this and also really proud of my team and the way we rode this week. I think we really showed team spirit," Elisa said. "Today was quite an easy day in the beginning but then it got a bit hectic, especially in the last few kilometres where the speed was high, we were in the middle of the city with all the corners and there were cat eyes in the middle of the road."

Women in STEM
Dame Angela McLean has been named as the first woman to hold the post of the UK's Chief Scientific Adviser, taking over from Sir Patrick Vallance.
She will provide independent scientific advice to the prime minister and cabinet, advise on science and technology policy, and improve the quality and use of scientific evidence in government.
As the president of the Academy of Medical Sciences, Dame Anne Johnson said Dame Angela was taking over at a pivotal moment: "The GCSA has an essential role in championing the opportunities that scientific research brings including leading innovation, boosting economic growth and improving the health of the nation. As we saw during the pandemic, research is vital for protecting the UK from future health threats.
"Her previous role as chief scientific adviser to the Ministry of Defence and her broad expertise in infectious disease epidemiology both place her well to best champion evidence-based decision-making in government."