Good news Friday: NASA, Below the Belt, West Brom Women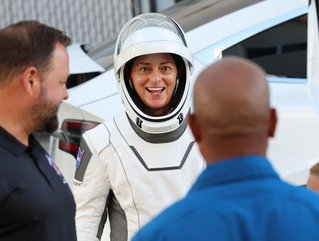 Credit: Getty Images/Kevin Dietsch
This week, we celebrate the first Native American woman in space, a new documentary on endometriosis and West Brom Women's FC changing their kit colour
Women in space
Nicole Mann has made history, becoming the first Native American woman to enter space. The NASA astronaut launched into Earth's orbit aboard a SpaceX Crew Dragon capsule, alongside three other astronauts.
"I feel very proud," Nicole said before lift-off. "It's important that we celebrate our diversity and really communicate that specifically to the younger generation."
Below the belt
Tickets to see the new documentary, Below the Belt, which follows a number of women across the globe who suffer from endometriosis, can now be purchased online. The film has been produced by a number of high-profile names, including Hilary Clinton and Corinne Foxx.
"There are so many reasons this disease doesn't get the attention it deserves, I personally feel like people care about things they can put a face to," says Jenneh Rishe, one of the women who star in the film. "Oh 'this represents my friend or my sister or my loved one, I know with this disease.' Everyone has someone they know, they just likely don't know it yet, so I just thought it was really important that if I'm going to talk about how we need to be talking more about this disease, how can I do that without doing it myself?" she said.
"I thought it was important to have a space that was very authentic to share the good and the bad, but is also educational at the same time so others can have the support to see themselves through my work," she added.

Comfortable kit
West Brom Women's football team have changed their home kit shorts from white to navy to reduce anxiety when on their periods – a common worry that plagues many professional sports women. For the rest of the season and beyond, the team will wear navy.
West Brom Women captain Hannah George: "It's great that the club are supporting our change to navy shorts. Representing the club professionally and looking smart in the kit is really important to us. This change will help us to focus on our performance without added concerns or anxiety."