Good news Friday, Wimbledon whites, Alex Scott, JP Morgan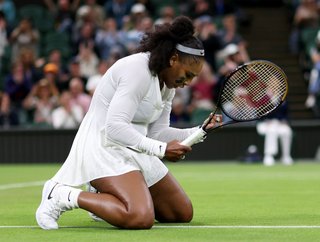 Credit: Getty Images/ Clive Brunskill
This week, we celebrate Alex Scott's heroic act as an LGBTQIA+ ally, Wimbledon permitting dark-coloured undershorts and JPMorgan's new parental policies
Relaxing rules
Wimbledon has relaxed its strict policy enforcing female players to wear white shorts, which has previously caused controversy and discomfort for menstruating players. Players will now have the option to wear dark-coloured undershorts if they wish.
"We are committed to supporting the players and listening to their feedback as to how they can perform at their best," Sally Bolton, chief executive of the All England Club, said. "I'm pleased to confirm that, following consultation with players and representatives of several stakeholder groups, the Committee of Management has taken the decision to update the white clothing rule at Wimbledon.
"This means that from next year, women and girls competing at The Championships will have the option of wearing coloured undershorts if they choose. It is our hope that this rule adjustment will help players focus purely on their performance by relieving a potential source of anxiety."
One Love
Former football star Alex Scott wore a rainbow 'One Love' armband while presenting coverage of the Iran v England game during the FIFA Qatar World Cup 2022. The gesture represents solidarity with the LGBTQIA+ community, as same-sex relationships are illegal in Qatar.
Qatar has faced scrutiny for its stance on same-sex relationships, and One Love armbands have been banned from the tournament. An official statement shared: "FIFA has been very clear that it will impose sporting sanctions if our captains wear the armbands on the field of play.
"As national federations, we can't put our players in a position where they could face sporting sanctions including bookings, so we have asked the captains not to attempt to wear the armbands in FIFA World Cup games.
"We were prepared to pay fines that would normally apply to breaches of kit regulations and had a strong commitment to wearing the armband."
Parental equal rights
JPMorgan Chase & Co. have improved a number of its policies, including time off permitted for bereavement, sick days, and caring for ill family members. New parents will be given 16 weeks of leave to either parent, regardless of who the primary caregiver is.