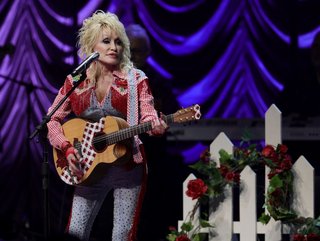 Credit: Getty Images/ Michael Loccisano
The 9-5 singer has become a global icon through her soothing country vocals, numerous charitable donations and time on the big screen – this is her story
As one of 12 children growing up in the rural Appalachia, US, Dolly's family often struggled to find money – but they were united by their love of music.
At 10 years old, Dolly was gifted her first guitar from a family member, and she soon started to pen her own songs and perform on local television and radio. After finishing school, she moved to Nashville, US to pursue a career in music.
Soon after, Dolly partnered with Porter Wagoner on The Porter Wagoner Show – the two became an iconic duo after recording a number of country hits together. Everyone seemed to love Dolly, possibly because of her warm nature, strong business acumen and shapely curves — she was a visionary artist. From the get-go, Dolly protected the publishing rights to her catalogue of songs, which has earned her millions in royalties.
After scoring a contract with RCA Records, Dolly went on to chart several singles, including her first number one, "Joshua." Throughout the 1970s, Dolly released a number of other well-known songs, including "Jolene," "I Will Always Love You" and "Love Is Like a Butterfly." In the 1980s, Dolly released "Island in the Stream" and starred in the hit comedy 9 to 5, which marked her film debut.
In special recognition for devoting a lifetime to the arts, Dolly was one of five artists featured at the annual Kennedy Center Honors in 2006. She also landed her second Academy Award nomination for "Travelin' Thru," a song that appeared on the soundtrack for 2005's Transamerica.
Although music has always been Dolly's one true passion, she appeared in a number of films throughout the ages, including Steel Magnolias (1989), Unlikely Angel (1996) and Joyful Noise (2012). She was also the recipient of the Willie Nelson Lifetime Achievement Award at the 50th Annual Country Music Association Awards in 2016.
Although many of Dolly's charitable contributions have been anonymous, she has had a very clear passion for helping children. For example, she donated millions of books annually to children, and she has also provided scholarships, donated to hospitals and improved classroom supplies.
Earlier in 2022, Dolly dedicated the Academy of Country Music awards ceremony to the people of Ukraine to show her support for the country.