How she got there: Microsoft's Priyanka Gangishetty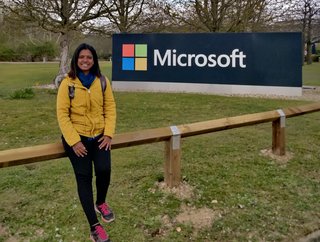 Priyanka Gangishetty shares the incredible story of how she battled societal norms, family illness, and depression to finally find her true path in life
Growing up in a small town just outside of Bangalore, India, Priyanka Gangishetty was raised in a society where women were encouraged to be demure, passive and supportive of men. But, throughout her life, Priyanka undertook an incredible transformation, gaining control of her choices and freeing herself from the clutches of patriarchy. Now, Priyanka lives in Reading, UK, and is a Senior Azure Customer Engineer at Microsoft.
This is the story of how she got there.
Age: 0-9
Raised in a joint family, Priyanka shared a home with 13 other family members, spanning her mother, father, brother, uncles, aunts and cousins. Traditionally in India, boys would be given the best opportunities in life, from investment to education, and girls would play the role of homemaker once they were married. However, Priyanka's father had a different path in mind for her.
"My father was the first feminist I met," Priyanka says, "I didn't realise it at the time, but looking back, he certainly was. Although he considered my brother, too, he always made sure I had ample opportunities – which, back then, was not the norm."
Age: 10
As a result of her father's progressive attitude, Priyanka attended a good school and found her first love: books. "I was always very shy, and I didn't have much ambition for the future," Priyanka says, "but books led me into a world that I didn't know existed. I would dream of these worlds and wonder what else was out there. I would read about burgers, milkshakes and marmalade sandwiches, not knowing what they really were – I had my first sandwich at 20 years old. But I would also read about girls going off on their own – hiking, camping, exploring – it was all very new to me. Books showed me a life that I didn't know was possible, and they introduced me to characters that became role models."
Age: 15
In small towns in India, families would often publicise when girls hit puberty by throwing a party, showing that they were now of marriageable age. "I thought this was so embarrassing," Priyanka says. "Friends, neighbours and boys from my school came to see me sitting in the centre of a stage with make-up on – it was everything I hated.
"A cousin I lived with could see how uncomfortable I was, so he gave me a Nokia brick phone to play with. He told me that, by texting 'JOKE' or 'NEWS' to a certain number, I would receive either a joke or the news in return. This was the predecessor of the Internet. I thought it was wonderful and, from that day, I was hooked on technology. I felt a similar type of fascination when I started using computers and the internet. I was so intrigued as to how a posted letter would take two days to arrive, but an ecard would arrive in someone's inbox in seconds."
Age: 18
Priyanka's fascination for technology led her to study Coding at a University in Bangalore, but she soon realised that her true passion was understanding networking and the internet. To further her understanding of this area, she enrolled in a course that caught the eye of networking giant Cisco. "The stars aligned, and I was offered a student apprenticeship," Priyanka says. "I was earning $100 a month, which was huge, because before I was receiving $20 from my father a month for my expenses.
"The first time I stepped foot into Cisco, I was amazed. I had never been in a space like that before – glass walls, plush couches, free coffee, and great workspaces! I couldn't understand what someone like me was doing in a place so beautiful. Usually, people feel out of place for what they can and can't do intellectually – for me, it was the opposite. I didn't belong in a pristine and modern world".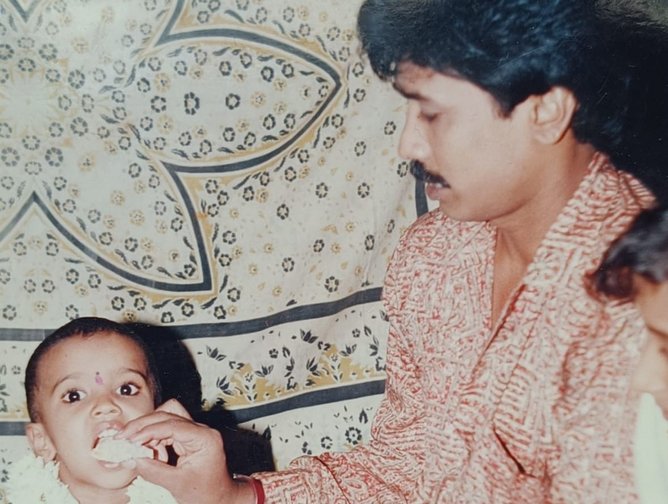 Priyanka and her father
Age: 20
As Priyanka's education and career took off, her family were given the devastating news that her father had terminal cancer. "He was the only role model I really had, and he was still relatively young, which made the news even more shocking," Priyanka says. "His medical bills were huge and his condition was bad, so my brother and I decided to hide his illness from my mother, who had her own set of neurological issues, as we were afraid it would worsen her condition. So, on one hand, I was telling my mother he was going to be fine, and, on the other, I knew his days were numbered, while also juggling university and my apprenticeship."
Age: 21
Sadly, Piyanka's father passed away a year-and-a-half later, when she was a full-time employee of Cisco. "Luckily, I had a manager that was supportive, but it was still incredibly difficult to juggle my personal and professional life. Because of this, I had zero expectations of my career – I didn't even know what a career looked like.
"Soon after, my mum and a few other members of my extended family sat me down and expressed that any father's last wish would be to see their daughter get married and I should consider that as an option. In that world, the 'responsibility' of a woman transferred from one man to another, never allowing the woman to take charge of her destiny. I could not understand no matter how hard I tried, how marriage was a solution to the grief and circumstance I was in.
"At that moment, something awoke in me. I was going through the most terrible time of my life and I was presented with a double standard: my brother was only a year and a half younger than me, but no one was expecting him to get married.
"By this point, I was financially independent, earning $500 a month – still a lot of money – so I decided that I didn't need a husband and that I would look after myself. But my father's illness and other financial commitments had accumulated a debt of $80,000, which was now my responsibility. I didn't even know where to start, yet I decided to embark on a new life in California, to pay off the debt and pursue my American Dream."
Age: 23
Despite all the negative events that propelled Priyanka to the US, she describes it as the best choice she ever made. "Being free from the clutches of patriarchy and a culture that expected me to be someone I wasn't, allowed me to write my own story – the way I wanted it this time.
"Securing a job at the University of California, Irvine and another internship with Cisco allowed me to send money back home. Soon after, I received an offer from Microsoft – a dream come true. I took the first salary offer given, although I was criticised by others for not negotiating it. For me, it already seemed like too much money, and it did help me pay back my father's debts."
Age: 25
The US had provided Priyanka with stability, a home and the opportunity to give her mother and brother a clean slate, free of debt. "My mind was finally able to slow down in the face of some semblance of routine and normalcy, but this peace caused me to face all the grief and pain I was keeping on hold for three years and plummet into a deep depression," Priyanka shares. "It's easy to miss the initial signs, but those around me noticed that I was withdrawing from social engagements, barely leaving my house and unable to find joy in the things that I used to.
"My manager was the one who recommended that I visit a psychiatrist. I was a little taken aback as no one really spoke about mental health, and I had overcome so much that it was hard to understand why it was starting now. After visiting, I was diagnosed with clinical depression.
"My mind was my worst enemy, and because of this, I was unable to continue my career at Microsoft. There was a point where I was hallucinating. I would wake up from nightmares and see huge spiders on the wall. It would take me a few seconds to realise they weren't real."
Age: 26
Realising she needed to make some changes in her life, Priyanka moved to enjoy the sun and the beaches in California. "For a while, it was enough. I was working at a new company that allowed me to experience a different side of tech, and I was looking after myself more, so the fog that I felt in my brain started to go away.
"I started to travel and spend my time doing things that I never thought I would have a chance to do. When I was in India, I was conditioned to be complacent, to not have the ability to make decisions because they were always made for me. But now even ordering a coffee, taking a walk along the beach by myself, or driving my own car – the things which a lot of people take for granted gave me a sense of control and independence. This strengthened my sense of self and allowed me to establish my own set of likes and dislikes which seems basic but is a privilege for many women around the world. And with every country I travelled to and every place I visited, I could see some of the characters from the books I used to read come alive and so did so many aspects of my personality."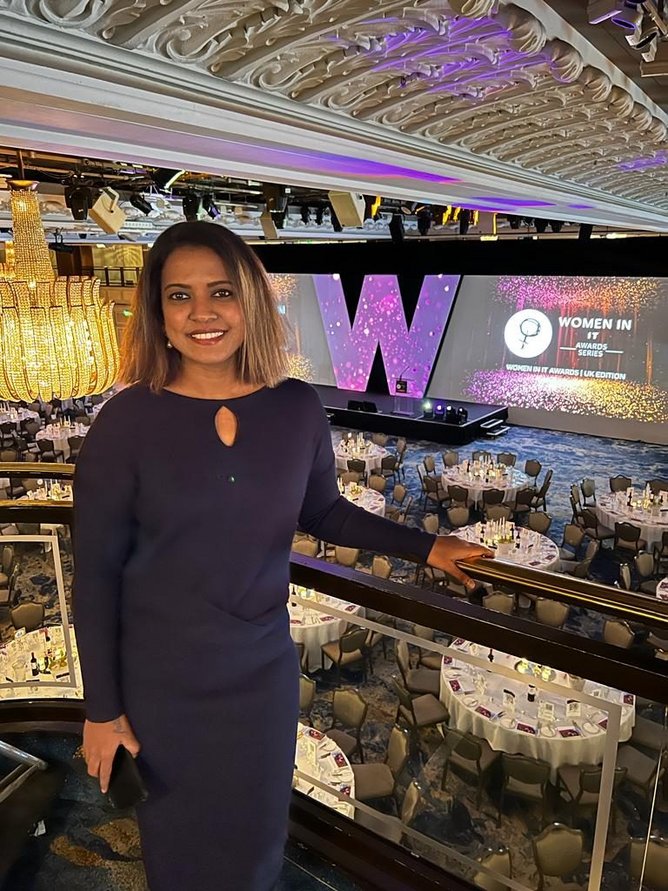 Age: 28
Priyanka had well and truly caught the travel bug, which influenced her move to the UK. "I loved seeing the different ways in which people lived," Priyanka says, "especially the lives of women and children.
"All of my career choices had been governed by my personal circumstances – for example, I took the job at Microsoft because it was well paid, and I left because of my mental health. This step in my career journey was no different – I took a place at a firm because my husband worked in the area. It just made sense. But I wanted the next two or three years to be different. I decided that I was going to put myself in the driver's seat of my career. I wanted to reach a more senior role.
"Sitting down, I made a plan. I separated facts from feelings. Although I felt as though I didn't deserve a great career and I wasn't quite as good as my colleagues, I came to the realisation that, no matter where in the world I worked, no matter the company size, the fact was that I always received great reviews. I was good at my job.
"With that in mind, I then applied for five jobs in Senior roles and received offers from all five companies. I was astonished! Years ago, I would never have thought that was possible as I always accepted the first offer presented to me without question."
Age: Now
Negotiating a good offer for the first time, Priyanka accepted a role back at Microsoft, and has found herself working for a company with an inclusive culture that advocates women's advancement and strives to create change. "Ambition was something I was afraid to have," Priyanka says. "I always knew I wanted more out of life, but I thought I would only achieve it by supporting male figures because I never saw a woman being the star of her own life. Women were always the supporting characters. In the movie of my life, I thought I was playing a supporting role and I was constantly trying to find out who would be the star– my father, brother or husband, for example.
"The last few years have been a journey towards the realisation that this isn't true. This is my life: I am the hero and I am the star. We often undermine the role confidence and self-belief play in our lives, but to me, it's been everything. My mission now is to use this confidence to help elevate other women in the tech industry and otherwise, while advocating the importance of looking after our mental health."