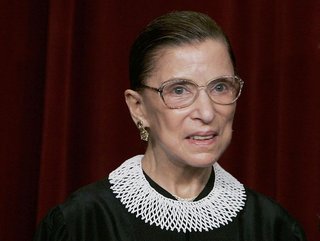 Credit: Getty Images/ Mark Wilson
As the second woman to serve on the US Supreme Court, Ruth Bader Ginsburg was a pioneering figure, helping to promote women's rights across the globe
Born as Joan Ruth Bader in New York, US in 1933, Joan was the youngest of two children from Nathan and Celia Bader. When she was just 14 months old, her eldest sister – who was six years old – died of meningitis.
Early into life, she began to go by the name of "Ruth", to distinguish her from another kindergarten student named Joan. The Bader family were a traditional Jewish family, and Ruth was an outstanding student who received excellent grades.
Her hard work and dedication landed Ruth with a full scholarship to Cornell University – where she met her future husband, Martin (Marty) Ginsburg. She also met Professor Vladimir Nabokov, who inspired her to consider writing, and Professor Robert Cushman, who inspired her to take a legal path.
After graduating from Cornell, Ruth began her studies at Harvard Law School, where she later became a caregiver to her first-born child Jane and now husband Marty, who had been diagnosed with testicular cancer. Marty soon made a full recovery, and Ruth completed her education at Columbia Law School, serving on the law review and graduating in a tie for first place in her class in 1959.
Although Ruth had excellent credentials, she struggled to find employment as a lawyer, because she was a woman and a mother. Very few women were lawyers, and at the time, only two had ever served as federal judges. However, Judge Edmund Palmieri of the US District Court for the Southern District of New York offered Ruth a clerkship, after one of her Columbia law professors advocated her.
She later held the position of Assistant Professor at the Rutgers School of Law, but she was forced to take a low paying salary because of Marty's well-paying job. In 1970, Ruth became involved with advocating the issue of gender equality, and over the next few years she wrote a number of papers and taught seminars on the issue. A few years later in 1972, Ruth became a founding counsel of the ACLU's Women's Rights Project.
Over the next few years, Ruth saw a number of major successes in her mission to champion women's rights, including arguing before the Supreme Court six times and winning five cases, constitutioning right of women to choose to have an abortion, and being sworn in to the Supreme Court by Bill Clinton. She became the second female law professor at Rutgers and fought for equal pay and she was the first justice to officiate a same-sex marriage.
Ruth sadly passed on 18 September, 2020, but her name remains as one of only four female justices in history.