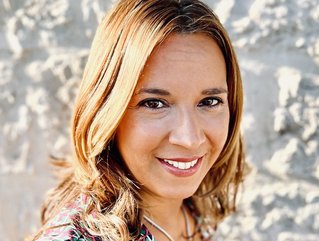 Samreen McGregor
Best-selling author Samreen McGregor shares her inspirational career journey, which is filled with ups, downs and a lot of life lessons
Samreen McGregor is an executive coach who has worked on three continents with senior leaders and teams across industry sectors.
With a unique ability to create the conditions leaders need to stretch beyond their existing capabilities, Samreen's interventions lie in a unique cross-section between business performance, behavioural change and embodied consciousness. She inspires leaders, teams and organisations to embrace adversity as a catalyst for empowerment and wellbeing.
In her bestselling book Leader Awakened, Samreen explains how leaders can use their experiences as a powerful point for learning, empowerment, agency and improved wellbeing.
The individual grew up in multiple locations, including Caracas, Venezuela, London, UK, upstate New York, USA, and Stockholm, Sweden. They completed undergraduate studies in Political Science, followed by a Masters in Business Systems Analysis and Design.
The path to a successful career
Samreen grew up in multiple locations across the globe, spanning Caracas, Venezuela, London, UK, upstate New York, USA, and Stockholm, Sweden. She completed her undergraduate studies in Political Science, followed by a Master's in Business Systems Analysis and Design, before settling into professional life.
"As a young professional working as an Organisational Consultant at Ashridge Business School (now known as Hult EF), I progressed my formal development by doing a post-graduate diploma in Counselling and Psychotherapy," Samreen shares. "I also did further studies in psychological approaches, neuroscience, systemic thinking and a methodology called 'The Theory of Constraints'. More recently, I'm studying and researching naturopathy (which has included completed studies in biomedicine)."
Samreen then began her working life in international financial portfolio services. Although she enjoyed the dynamism, learning about financial markets, travelling and working across cultures, helping wealthy entities and people generate more wealth did not motivate her. There was something missing.
"The decision to do a Master's at City University in my mid 20's, unconvinced with my choice to pursue a profession in finance was a game-changer," she explains. "It enabled me to surround myself with a crowd of peers from all over the world. It presented possibilities to help me explore and find my true calling.
"It was a peer on this MSc course that found the opportunity at Ashridge in a Prospects advertisement for me. I then worked at Ashridge as a 'consultant under development', led and mentored by highly-skilled consultants and industry leaders.
"The relationships I cultivated, the mentoring I was given, further studies I sought, but most of all the practical experience of working with clients across industries internationally, was second-to-none.
"Eventually, I woke up one day realising I had cultivated a wonderful network of client organisations, a sense of confidence, a legitimacy in my practice, and an unrivalled passion for helping people."
Facing challenges along the way
Samreen shares that one of the hardest things she has ever had to deal with is helping her nine-year-old son, Darshan, through his paediatric cancer journey. "It was a very tough time, as it zapped all of my energy, attention and resources, not leaving much of me left. His treatment involved three surgeries on his brain, as well as chemotherapy and Proton Beam Radiotherapy - a treatment we had to temporarily relocate for," she shares.
"Thankfully, my son's treatment was successful, however, it took me months to come back to myself. I was drained and broken, and the stress I had endured started to show in my body, in the form of severe neck pains, psoriasis, depression and digestive disorders.
"I find it extremely difficult to bounce back to the life I once knew and the thriving business and clientele I had. In my experience though, overcoming and facing tough hurdles like this can make you stronger and your life becomes more fulfilled.
Yet Samreen shares that overcoming this incredibly difficult time is also one of her proudest accomplishments.
She shares: "When life threw me an unwanted chapter in the form of my son's cancer, I am proud of how I handled our situation. To then find 'me' again after such a traumatic journey, and to build myself back to being a thriving business owner with endless possibilities, is definitely one of my biggest achievements.
"That's why, if I had to give my younger self advice, it would be: Don't be afraid of discomfort. No sensation or situation lasts forever, but what you learn is golden."