How to speak up and find your voice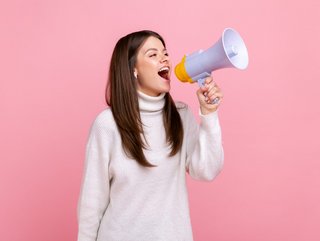 Credit: Getty Images/Khosrork
Speaking up is a common phobia, which can cause many of us to let our opinions pass us by. Here's how you can conquer this fear and find your voice
Being unable to express your opinion will leave you feeling oppressed, devalued and disrespected. Realising that finding the confidence to speak up in situations that make you feel uneasy will not only boost your wellbeing, but it will create diverse conversations by offering an alternative perspective. After all, if you're thinking it, chances are others unwilling to speak up are feeling the same way, too.
1. Identify what situations make you uncomfortable
Whether you struggle voicing your opinion to your boss, or you have a difficult friend that doesn't welcome your opinion, one of the first steps vital for learning to speak up is identifying these difficult situations. Once you can recognise these instances, try to decide what you would like to do differently next time. Likewise, try to imagine yourself a year from now, and envision how you'd like to respond to similar situations. From here, you can then begin to work on achieving this.
2. Find confidence within yourself
If you're unable to speak up in certain situations, chances are, you don't believe what you're saying is valid. By speaking to yourself with more positivity, and understanding that every voice around the table deserves to be heard will help you gain the confidence you need. Start small, by raising your hand more often and sharing your opinion in smaller groups. Once you've done this a few times, reflect on the positives to boost your confidence.
3. Pay attention to non-verbal cues
There are a number of ways in which you can alter your body language, to make you look and feel more confident, therefore making you feel more comfortable when speaking up. For example, try to maintain eye contact with the person you're talking to, stand or sit up straight (or avoid slouching) and keep hands visible by making appropriate hand gestures as you talk.
4. Let go of worrying about the outcome
If there is a particular individual or group of people that you're concerned about sharing your opinion with, it may be because you're worried about their response. By letting go of the outcome and the criticism that you may face from others, you'll be less attached to meeting their expectations and more focused on finding your voice. Remember that respectfully sharing your opinion is your right, that may encourage others to follow suit, too.
5. Remember why you're there
Having a diverse group of friends and work colleagues is vital to ensure that different perspectives are being included. You and your thoughts will be bringing something unique to the conversation, after all, your voice may add a different dimension or lead the topic down a different, equally-as-important path. Therefore it's vital to remember why you need to speak up, while also recognising how it can benefit others, too.