Meri Williams, on diversifying tech & overcoming boundaries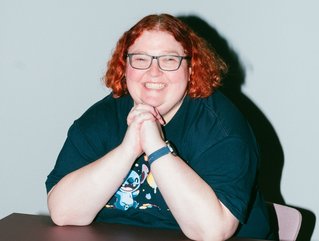 Meri Williams
Meri Williams discusses life in the computer science field, sharing her experiences in the male-dominated sector as an advocate for the LQBTQIA+ community
South African-born Meri Williams first came to the UK to study Computer Science at the University of Bath but failed to return home. The first ten years of her career were spent at Procter & Gamble, working in different technology and operational roles, before realising she was on track to become a great IT professional but a terrible technologist.
She, therefore, left and was part of the early Government Digital Service, scaling the team that built GOV.UK from 30 to 300 people in just under 9 months.
In the years since, she has graduated to even larger CTO roles, including at MOO, Monzo, Healx, and now Pleo.
We sat down with Meri to understand more about her groundbreaking career.
Hi Meri, tell us about Pleo – why do you enjoy working for the company?
First of all, I love the culture at Pleo – and their willingness to incorporate difference as new people join. I've found it to be a place I could feel like I belonged from very early on. It helps that our Lighthouse (Exec team) works hard at being a real team and not just a collection of individuals – that's something not every business gets right. And of course I love the product itself, and how much our customers love what we do!
How have you found working in a male-dominated industry?
It's definitely been tough at times, but so was studying in a sadly very male-dominated academic field (Computer Science and Artificial Intelligence).
Often people will assume that I'm not as technical as my male peers, when the irony is I'm probably one of the more technical CTOs around at my scale and level.
I still take a keen interest in architectural choices and things like operational resilience, alongside technical strategy and organisational leadership. I've learned to roll with the punches and challenge the assumptions from very early on.
I was also lucky in my formative years to have a number of great role models who were inclusive, from multiple genders, who I grew to want to emulate.
Why is it important to you to diversify the tech industry?
It's important that the tech industry is as diverse as the customers that we serve.
If we don't have sufficient representation, then we will continue to just build for one part of society and miss out on the huge impact and success that we could achieve.
One of the best things any team can build is empathy for their customers/users, and having a broad range of people in your team gives you a massive head start in doing that. We've also seen time and again that diverse teams outperform homogeneous teams in terms of innovation, profits and engagement, so at this point it's really a no-brainer to invest in being as diverse and inclusive as possible.
What are you doing to raise awareness of LGBTQIA+ rights in the industry?
I'm told that just being visible as an openly queer and non-binary woman in a leadership position has helped a lot of folks realise that they can be leaders too.
As the saying goes, "if you can't see it, you can't be it". I used to think role-modelling wasn't that important – after all, I was studying Computer Science where almost all the lecturers and 85%+ of the students were men – but then I led university recruitment for a while at P&G, and saw that we got double the applications from women whenever a woman presented on campus. That changed my opinion rapidly!
I also serve as a trustee on the board of Stonewall, the UK's leading LGBTQ+ rights charity, and previously led ERGs (Employee Resource Groups) for LGBTQ+ employees at P&G and some of my other companies too.
What do you believe needs to change in order to make the tech industry more inclusive?
Honestly, we just need to stop pushing people away. Women leave the industry at twice the rate of men, and I'm sure the statistics will be worse for people of colour and other underrepresented groups.
After all, it's tough and lonely to be the only person like you in your team, reporting line, or sometimes even the entire company.
I've developed a model for helping teams to become more inclusive, basically that everyone is asking themselves three questions when deciding whether to join, stay or leave somewhere:
Am I expected? (are people like me even anticipated to work here?)
Am I respected? (are my differences viewed as features, or bugs?)
Can I be myself and be successful here? (how much energy will I have to spend masking/pretending to be something I'm not)
Most of what we need to do as an industry is about turning the answers to those questions from no to yes, for ever larger groups of people who have traditionally been underrepresented.
What advice do you wish you could give your 15-year-old self??
So this is a weird one, but it would be: Don't build part of South Africa's first satellite. It's hard to compete with your gawky, 16-year-old self when they've soldered something that went into space… it's all been a bit downhill since then.
To be more serious though, I would probably tell my 15-year-old self: "It gets better, and you're going to find your people sooner than you think."