Linn Grant becomes first woman to win DP World Tour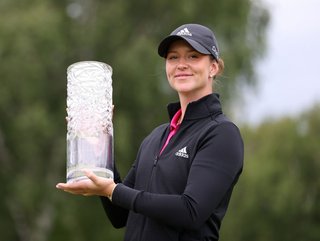 Credit: Getty Images/ Naomi Baker
The DP World Tour was won by a woman for the first time in history – a win reminiscent of Billie Jean King's victory during the 1973 "Battle of the Sexes"
For the first time in history, a female player won the DP World Tour.
Linn Grant, a 22-year-old from Sweden, won the Scandinavian Mixed event by winning nine strokes after an 8-under 64 in the final round at Halmstad Golf Club, in Sweden.
A 'girls against guys' victory
Linn, who is also a two-time winner on the Ladies European Tour, made her remarkable victory by obliterating 78 male and 78 female components, finishing 14 strokes clear of the next best woman, Gabriella Cowley, who placed tied for 15th.
"I didn't see it [the lead] until the 13th green, where the screen was, and it was a little bit [of a shock]," Grant admitted. "I thought maybe three or four ahead, but then when I saw eight I was like I can actually breathe out a little bit and go on and do my thing," Linn said.
The former Arizona State standout started the final round in a strong position, with a two-stroke lead – she also birdied five of the first six holes to begin her tear. She proceeded to post 26 birdies and an eagle in her 24-under performance.
Speaking of her victory, Linn said: "All week I just felt like it's the girls against the guys and whoever picks up that trophy represents the field.
"I just hope that people recognise women's golf, more sponsors go to LET than the men's tour. Hopefully this pumps up the women's game a little bit more."
Linn has now won three times in six starts this season, including The Mithra Belgian Ladies Open, where she collected US$30,000 in winnings. For the Scandinavian Mixed, she won US$319,717.
Battle of the sexes
Linn's historic victory is reminiscent of the 1973 "Battle of the Sexes", in which Bobby Riggs taunted female tennis players. Billie Jean King was then prompted to accept a lucrative financial offer to play Bobby in a televised match, which attracted 90 million viewers.
In her victory, Billie Jean ignited a boom in women's sports participation, and is known for empowering women to advocate for equal pay in all sectors of the workforce. For Billie Jean, winning the match was much more than just defeating her opponent or claiming the US$100,000 prize fund, as after the match she commented: "I thought it would set us back 50 years if I didn't win that match. It would ruin the women's [tennis] tour and affect all women's self-esteem. To beat a 55-year-old guy was no thrill for me. The thrill was exposing a lot of new people to tennis."