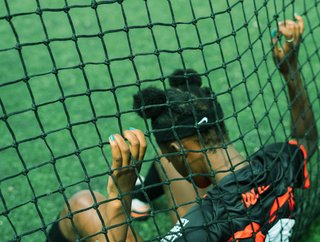 Credit: Getty Images
We need more girls in sports – period. So we spoke to Norwich City's Jackie Thornton to learn how and why we can encourage more girls to play football
Jackie's father was the first to ignite her love for football, so much so that he encouraged her and her sisters to start playing the sport. Although they faced resistance at school – being told that football was a boy's sport and that girls must play netball – Jackie and her sisters formed a team and worked their way up to university level.
From here, Jackie began coaching, which eventually led her to the position of Girl's and Women's Development Office for Norwich City – and since then, she's been flying the flag of inclusion.
Now, Jackie Thornton is the Head of Development at Norwich City Football Club, which enables her to look at strategy and funding to ensure the foundation provides access to women's football and disability sport to as many people as possible.
The year of the Lioness
Earlier in the year, England's Lionesses' won the UEFA Women's Euros, which has become a phenomenal milestone for women's football.
As the women's tournament generated the same levels of excitement as the men's game, it has gone down in history as the most-watched Women's Euros in history. The England v Germany final saw 87,192 people roll through the turnstiles at Wembley Stadium, London – marking the highest attendance of any European Championship final for both men and women.
But the Women's Euros had already claimed its space in the football hall of fame, as the tournament saw a staggering 248,075 in-person attendees at group stages, which once again broke previous records.
"It's taken so much work over the years. So many battles to get women's football – and woman's sport – to this point. It's amazing for all the people that have been advocating it for so many years, to finally be able to say 'actually, that was really worth it''."
"Seeing the success that the Lionesses had made me feel really emotional," Jackie says, "and you get emotional because you care. Honestly, I never thought that day would happen – especially with so many fans and positive press coverage. But it was also amazing to see that everyone was getting behind the Lionesses – not just women, but men too."
Inspiring the next generation
As the old saying goes, 'seeing is believing' – which is exactly what the Lionesses have achieved. But there's still a long way to go before we see equality on – and off – the pitch.
"We need to be better at encouraging girls to play football in school," Jackie says. "My daughter's school is fantastic, but I know other schools aren't so great. They see it as a battle, where it should be seen as equal.
"We also need to ensure that the right facilities are available. Girls and women shouldn't feel like they're getting the second best, low-end facilities – they should be encouraged and inspired by playing at great places."
Although the Women's Euro's 2022 is being dubbed as a starting point for women's football, questions have been raised around whether the lack of diversity in football has limited marginalised groups from accessing the sport – for example, due to travel, time or money.
To counter this, the FA will be launching 60 emerging talent centres across England, with the aim of supporting 75% of schools to provide access to girls' football and 75% of grassroots clubs to have at least one girls' team.
"We also need to commercialise the game," Jackie says, "becasue that becomes the player's income, which makes the sport sustainable. So we need the same media coverage, the same level of support and the same amount of funding to ensure we're encouraging the next generation of women's football players."