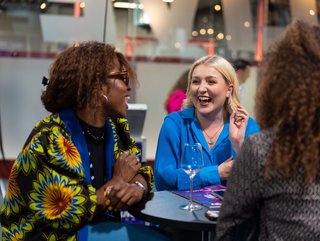 March8 LIVE
On June 23rd and 24th, Tobacco Dock, London, opened its doors to the MARCH8 LIVE event – we take a look at the speakers who took centre stage on day two
As women make up only 28% of the global workforce in science, technology, engineering and maths (STEM), we see it as our mission at March8 to share the voices of pioneering women in the sector.
On June 23rd and 24th, we welcomed our March8 community to Tobacco Dock, London, to indulge in keynote speeches from 11 amazing women, as well as two inspirational panel sessions, two informative fireside chats, and an excellent networking opportunity. For those who weren't able to attend the event, we're happy to fill you in on what you missed out on.
You're not fake, you're fantastic; Panel: Diversity, Equity and Inclusion
With such a catchy title, Steph Marques's keynote was a fantastic way to get the second day started. Tackling the topic of imposter syndrome head on, Steph shares that it is a common issue that everyone feels from time to time, while highlighting tips to overcome the issue, as well as how to take advantage of it.
Optimising investor returns supported by increased accountability and transparency in authentic impact delivery and innovation ~ reversing funding gaps in women's health and health conditions disproportionately impacting diverse demographics
Delivering a serious talk for serious issues, Lisa Lambie took to the stage to discuss a number of pressing issues, including increased accountability and transparency in capital allocation and maximising innovation, including diversity and inclusion – which she describes as a 'must have' in business.
From Journalism to AI
With a passion for elevating women in STEM, Mara Pometti shares her personal experiences as a professional in the sector, as well as a humanist. Focused on bringing women together to create a better future, Mara discusses how both the humanities and STEM can be used to humanise AI.
Fireside chat: Barriers recruiting women in STEM
Joined by the lovely Tanavi Patel and Paulina Laurie, Samantha Humphries discusses the various challenges that women face when aspiring to pursue a career in STEM and, most importantly, how to overcome them. Linking back to Steph Marques's talk, Samantha continues to explain how women can thrive in STEM careers and how they can overcome imposter syndrome.
Idea to Profit: How to Humanise and Monetise SaaS and Tech
Natalia Nicholson's aim is to humanise SaaS and tech – and, by that, she means breaking the assumption that tech professionals are hidden away from other employees, as we are now, of course, in the digital age. She explains why it's paramount for businesses to digitalise and how, as the founder of Women in Digital Business, she helps others to achieve this.
An Ethical Revolution in Tech: How Women Can Lead the Way
Have you ever wondered why Alexa and Google Home have female voices? While taking centre stage, Samantha Karlin explains how giving robots – or, as she calls them, 'servants' – female voices reinforces harmful stereotypes. Taking a deeper dive into the issue, Samantha explores the pitfalls of having so few women in the AI sector, particularly in product development, and how to counter these.

Inclusive hiring: Why it matters; Fireside chat: Barriers to recruiting women in STEM
After joining Samantha Humphries and Tanavi Patel in the fireside chat, Paulina Laurie stepped into the spotlight herself to discuss the importance of inclusive hiring and how to achieve it. Passionate about increasing diversity within the tech sector, Paulina disclosed a number of shocking statistics to showcase how inclusive hiring can close the gender gap.
Panel: Diversity, Equity and Inclusion
Diving straight in, Angie Vaux defines what diversity, equity and inclusion actually mean, to then explain where the lack of representation begins when it comes to STEM. While highlighting how workforces can tackle these challenges, Angie expresses that the key piece of advice that she would give to other women in STEM industries is to understand the importance of being your authentic self – a truly inspirational way to close another fantastic show.