Meet Dr Jane Goodall, the face of Mattel's new Barbie doll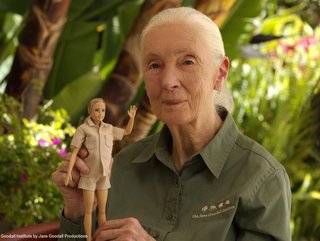 Jane Goodall with news Barbie doll Credit: Jane Goodall Institute by Jane Goodall Production
Mattel's ever-expanding Barbie family of influential women has welcomed primatologist Jane Goodall, in a bid to educate young girls on climate change
Over the past few years, Barbie has launched a number of new dolls fashioned after influential women to inspire young girls – Dr Jane Goodall is the latest addition.
The Barbie brand, owned by Mattel, partnered with the Jane Goodall Institute to introduce a Dr Jane Goodall Inspiring Women Doll and 2022 Barbie Career of The Year Eco-Leadership Team. The Inspiring Women doll and career doll set are certified CarbonNeutral1 and made from recycled ocean-bound plastic2 and are available at mass retailers.
"We are proud to unveil our first sustainable Barbie Inspiring Women and Career of the Year Eco-Leadership team dolls, which further demonstrate our shared commitment to creating a more sustainable future," said Lisa McKnight, Executive Vice President and Global Head of Barbie and Dolls, Mattel.
"Kids need more role models like Dr. Jane Goodall, because imagining they can be anything is just the beginning – seeing it makes all the difference. We hope that this collection and homage to a groundbreaking pioneer for women in science and conservation inspires kids to learn more about green careers, how they can protect the planet, and act out sustainable stories through doll play."
Who is Jane Goodall?
At just 26 years old, Jane Goodall travelled from England to what is now Tanzania to explore the little-known world of wild chimpanzees.
Only taking with her a notebook, binoculars, and a fascination for wildlife, Jane Goodall pioneered unknown realms, to give us the remarkable insight to humankind's closest living relatives.
Now with 60 years of research behind her, Dr Jane is known for her groundbreaking research, and has shown us the urgent need to protect chimpanzees from extinction. She has also redefined species conservation to include the needs of local people and the environment.
Today, she travels the world, speaking about the various threats facing chimpanzees and environmental crises, urging each of us to take action on behalf of all living things and the planet we share.
"My entire career, I've wanted to help inspire kids to be curious and explore the world around them – just like I did when I first travelled to Tanzania 62 years ago," Jane says. "I'm thrilled to partner with Barbie and encourage young children to learn from their environment and feel a sense that they can make a difference.
"Through this partnership, I hope to inspire the next generation of eco-leaders to join me in protecting our planet and remind them they can be anything, anywhere – on the field, in the lab, and at the table."