Meet Jenny Saft, the CEO promoting fertility benefits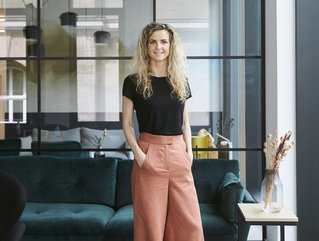 Jenny Saft
We spent the day with Jenny Saft, CEO and co-founder of Apryl, to find out what a typical day looks like for an entrepreneur in the fertility space
Meet Jenny Saft, CEO and co-founder of Apryl: a platform allowing employers to give their employees access to inclusive fertility benefits. Before founding Apryl, Jenny worked in project management and Business Development at the likes of Adyen and Fyber, spending a couple of years living and working in San Francisco. She is also an Angel investor, investing through the Atomico Angel Programme, which she's been a part of since 2021. Although Jenny currently lives in Berlin, she is splitting her time between Berlin and London as the UK is a key growth market for Apryl. We spent the day with Jenny to find out what it takes to be a successful app founder.
Starting the day in a calm way
I'm really not that entrepreneur that's getting up at 5AM to do yoga and drink smoothies. Although no shade to people who are able to do that! For me, the most important thing is getting plenty of rest, easing myself into the day at a calm pace and ensuring I have a clear head ready to approach the day's challenges.
I usually wake up at 7:30AM. The first thing I like to do in the morning is read emails on my phone so I can get a sense of what is going on that day, and what I've got to respond to. It helps me feel mentally prepared for the day and what's ahead. I like to take my time to get ready and I usually have a decaf coffee before heading into the office. Since my role is incredibly varied, no two days are the same. I'm generally in charge of all topics that have external touchpoints: this includes sales, marketing, and investor relations.
At the moment, a lot of my time is spent between London and Berlin, as we're looking to build our team in the UK. My current priorities include interviewing candidates, meeting with new and existing clients and meeting investors. We've been running some really nice events for clients recently, so I've been helping the team coordinate these. My co-founder, Tobi, and I are both crystal clear on the roles we each play in the business, and we allow one another to play to our strengths and skill sets.
Taking on challenges
One of the biggest challenges for me at the moment is giving everyone on the team the support and attention they need and deserve, whilst balancing my other responsibilities in the business.
We're a small team but we're growing fast, and I want to ensure everyone feels supported and like they have space to ask questions so they can execute their roles to the best of their abilities. But since I'm busy flying between London and Berlin, my weeks can feel intense and time flies by so quickly. I try to stay energised and focused, so I can give every interaction with clients or colleagues my very best. This requires setting clear priorities and boundaries every day, to ensure I can focus on the things that matter.
Enjoying daily rewards
The most rewarding aspect is knowing that our team truly makes a difference to the people we help. As someone that has struggled through the fertility process themselves, I love speaking to people about their experiences and hearing how Apryl has been able to help them access the fertility treatment they need. It's also incredibly rewarding to know that we're playing a really key role in improving the patient experience for fertility patients, as it can be a really scary time for people. It's what keeps me going.
Switching off from work
One of my favourite things to do at the end of the day is to discuss the latest events in the company with my co-founder Tobi. Very often, we'll be the last ones in the office and that's the time when we can actually digest and discuss what's happened that day and how we feel about it. It sometimes feels like therapy because we understand each other so well and we just listen to each other. It's a great way to go home because everything that is bugging me has already been said and put to rest.
I do the usual things: if possible go and work out or just watch a Netflix show – just something that keeps my mind busy with something else than work.