Megan Rapinoe joins Trusaic to eliminate gender pay gap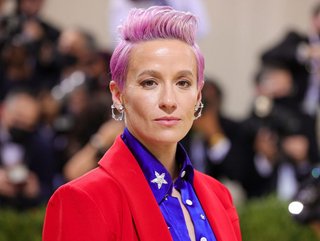 Credit: Getty Images/ Theo Wargo
Equal pay software provider Trusaic has teamed up with soccer legend Megan Rapinoe in a bid to eliminate gender and racial pay gap within the decade
Soccer icon and equal pay advocate Megan Rapinoe has been appointed as Chief Equality Officer and Strategic Partner Trusaic, a leading pay equity software provider. Through this new role, Megan will be a member of the company's "E-suite", Trusaic reimagination of the C-suite, to demonstrate the influence that leadership roles play when striving for workplace equality.
The inequality in pay follows women through their entire careers, as they see lower lifetime earnings, which consequently means lower overall income at retirement. By introducing the new role, Megan and Trusaic aim to accelerate organisational action around pay equity while encouraging employers to eliminate the pay gap. Megan and Trusaic aim to achieve equal pay over the next decade, yet at its current pace, closing the global gender pay gap will take more than 136 years, according to the World Economic Forum.
"Employers can alter the pace of change, they just need a better blueprint," says Megan. "Trusaic's PayParitySM helps organisations identify their gaps, examine their pay practices and take concrete steps to make real, actionable and lasting change."
Why is Megan the right woman for the job?
Although Megan is a world-renowned soccer player, she has also become a figure for activism after achieving equal pay for the U.S. national women's soccer team (USNWT). The victory came after Megan addressed the gender pay gap in moving testimony before Congress. After many months, USNWT, led by Megan, reached an equal pay agreement with the US Soccer Federation, which included the promise of equality going forward and US$22mn in back pay for the players.
"The victory of U.S. women's soccer was an important moment for the team and an important moment in the pay equity movement. But it isn't nearly enough. We need to ensure fairness and opportunity for all working women including those who aren't in a position to fight back," Megan says. "The exciting part of my partnership with Trusaic and why I was drawn to work with them is that we have a very straightforward solution that can help companies start tackling the issue now, today."
Robert Sheen, founder and CEO of Trusaic and Megan have found that they both share the same passion and enthusiasm for promoting equality. Robert, who immigrated to the US from South Korea as a child, said: "My early experiences with discrimination led me to the work I do today and my belief that achieving diversity, equity and inclusion respects our fundamental right to health, safety and dignity."
"We are in a historic moment for pay equity and Megan is a key figure in this moment," says Robert Sheen, founder and CEO of Trusaic. "We have the means to eliminate the pay gap over the next decade if we collectively commit to action. This is complex terrain for employers but it doesn't have to be. We hope, with an assist from Megan, to help employers ensure opportunity for all members of their workforce."