MindSpa: What it is and why you need to try it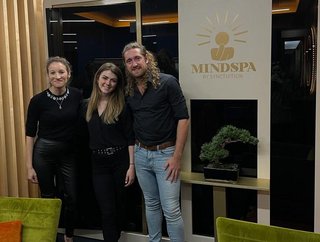 Kylee Hurrell, Lucy Buchholz and Dean Middleburgh
March8 editor Lucy Buchholz and creative designer Rebekah Birleson travelled to London to try the first ever MindSpa – Lucy shares how they got on
When was the last time you were relaxed? Not the type of relaxed when you're sitting on the sofa, decompressing after a long day, but when you feel so zen, that all your troubles seem to be far off into the distance?
I had never even considered this question until I met Kylee Hurrell and Dean Middleburgh, Coaches at Mindshaping. I always thought that 'shutting off' and unwinding was equivalent to flicking through my phone, heading to the gym or going for a walk. And although these all work in their own right, I was yet to experience relaxation like I did in the MindSpa.
What is a MindSpa?
Synctuition's MindSpa booths provide a window of tranquillity in busy and fast-paced environments. Specially designed by meditation experts and neurologists, the MindSpa is a cosy and portable space to help individuals enjoy deep relaxation and clarity of mind in a matter of minutes.
By combining 3D nature sounds and advanced relaxation techniques, MindSpas provide a getaway for those looking for a moment of peace, away from pressurised corporate environments. Just one session has been proven to optimise your mind to increase creativity, productivity, and motivation.
What are the benefits of the MindSpa?
Just one session in the MindSpa is said to relieve feelings of stress, anxiety and burnout, while improving mental health. These feelings are all common with those who work in busy corporate environments, which is why Kylee and Dean are starting difficult conversations with business to highlight why MindSpa's are an asset to the working world.
"The idea is to change the landscape of corporate wellbeing", Kylee says. "The idea is that organisations can either buy or hire a MindSpa to create an area for employees to completely unwind.
"So employees will be able to enjoy the MindSpa, to then top up that relaxation with coaching from us at MindShaping, to ensure they have the techniques to continue feeling the benefits. To do so, we offer one-to-one coaching, workshops and tools to help individuals cope with daily life.
"Of course, using the MindSpa for 20 minutes is great downtime, but once you're back to work, you're faced with the same problems you had before. But topping up the MindSpa session with coaching, individuals will learn the techniques needed to take the experience away with them."
One of the techniques that MindShaping taught us was the idea of anchoring. When we felt at the height of relaxation in the MindSpa, Rebekah and I would create a touch point on our bodies, for example, clenching our fists. By anchoring the feeling, our bodies started to remember it everytime we clenched our fists. This technique can be used everytime we feel stressed, anxious, or just like we need to slow down our minds.
How we found the MindSpa
After a busy day in London, Rebekah and I were keen to try both the MindSpa and MindShaping aftercare coaching techniques. Neither of us had experienced anything like it before, so to say we were excited, was an understatement.
"I felt like I was transported to a whole new world," Rebekah said. "It was like I was transported to another planet, as the 3D sound technology made me feel like I was floating in the ocean. I've never been so relaxed!"
And I couldn't agree more with Rebekah. After leaving the MindSpa, my brain felt like it had let go of all the tension. I imagined it to be like a balloon, deflating so it still resembled its shape, but enough so it was no longer at risk of popping.
Kylee then took me to an even deeper state of relaxation, helping me to anchor similar feelings to what I experienced in the MindSpa. Through the coaching, I was able to relive being in the booth, and take the sensation away with me to help me through challenging situations.
So for anyone who feels like they need a little R&R, I would thoroughly recommend booking some time with MindShaping and the MindSpa to experience the sensation of being fully relaxed.