Preeya Varsani, helping women rebuild their lives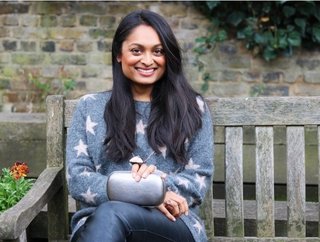 Preeya Varsani
Meet Preeya Varsani of Women for Women International-UK, who works internationally to help create better futures for women
After leading a successful career in the PR industry, Preeya Varsani fancied a new challenge that would enable her to have a positive impact on the world around her. Once she heard about Women for Women International, she knew it was an organisation she wanted to be a part of, so, she utilised her transferable skills to transition into the NGO sector.
Now, as the Head of Corporate Fundraising for Women for Women International-UK, Preeya works to help women across the world rebuild their lives and break the cycle of poverty.
Hi Preeya, please tell us a little about yourself and your career.
I spent the first 10 years of my career working in beauty, fashion and lifestyle PR, which culminated in my role as Head of Global PR and Events at Charlotte Tilbury Beauty, just after the brand launched in the UK. It was a fascinating time to be part of such a record-breaking and innovative business, and I learnt so much about the industry and myself.
PR wasn't a career I planned – I was interning at various places including magazines and fashion brands and then the financial crisis hit in 2008 so I took an opportunity with a PR agency. PR hones so many transferable skills – oral and written communication, interpersonal/relationship building, presentation, creativity – all of which are vital for my current role. It was a brilliant starting point for my career.
How and why did you decide to transition from a corporate role to an NGO?
Whilst I was at Charlotte Tilbury, we were looking for a charity to support with the Hot Lips lipstick collection and I met with Women for Women International. I was so inspired by the holistic programme and tangible impact it had on women survivors of war. This partnership has evolved over the years and Charlotte Tilbury committed an incredible £1 million to our work in 2019, which was such a proud moment.
I felt I had achieved a lot in beauty PR and was looking for something purpose-led so started volunteering for Rape Crisis and then eventually Women for Women International. The organisation was starting to increase its corporate giving and the rest is history!
What impact have you seen Women for Women make over the years?
This year is 30 years since Women for Women International was founded, by activist Zainab Salbi in response to Bosnian War. Since then, we have reached over 530,000 women and have seen that with the right support, women can rebuild their lives, break cycles of poverty and seize opportunities to create better futures for their children and communities.
Women enrol in our year-long Stronger Women, Stronger Nations programme, where they build support networks and develop skills to earn and save money, improve their family's health and make their voices heard at home and in their community. At the end of the programme, women's earnings more than double and participation in savings groups increase five-fold. The women we serve pass on their skills and knowledge to their neighbours and children, creating a ripple effect of change.
What is the most rewarding aspect of your role?
Hearing from the women we serve is definitely the highlight of my job. I had the opportunity to visit our programmes in Nigeria last year, which was a wonderful opportunity to see the work in action. I met a woman called Zainab whose husband had abandoned her to raise six children on her own. She was struggling with her mental health and being able to support her family. Zainab enrolled in our Stronger Women, Stronger Nations programme, made new friends and started a groundnut business. She also accessed a lawyer to help her petition her husband for support. Whenever I have a challenging day, I try to remember Zainab and other countless strong women we serve – there is nothing more motivating.
Likewise, what is the most challenging aspect?
Poverty, violence and gender discrimination mean that the women we serve are disproportionately affected by conflict. As war and humanitarian crises continue around the world, the injustice and trauma that women experience can sometimes feel overwhelming and hopeless. To counteract this, I turn to the stories of hope that always shine through – Zainab from Nigeria or Cinama from Democratic Republic of Congo, who started her own brick-making business, teaches programme participants and is one of the first women to own property in her community.
What advice would you give to other women considering leaving the corporate world to pursue a career with an NGO?
Think about what transferable skills you have gleaned from your career and how this would benefit a non-profit organisation. For me, this was taking the relationship-building and client servicing I had learnt from PR and applying it to building meaningful partnerships with businesses. Charities need a skilled and passionate workforce so if you are thinking about it, I wholeheartedly encourage you to pursue a career in the third sector!
Why is it important to you to elevate other women?
Being a second-generation immigrant, I often think about what it would be like to be a woman in parts of India and how different my life might have been. It is mere chance to be born here and have the opportunities I have, so I always wanted to give back and support women where opportunities are limited. That's not to say our job is done in the UK. According to the UN, no country in the world has achieved gender equality – and we're not on track to do so by 2030, either. I feel an affinity for the women we serve. Women everywhere face domestic violence and are at risk on the streets. The situation for women in the UK is not okay, but the risk is even greater for those in conflict-affected and fragile states. Achieving global justice takes a united effort.
What do you wish you could tell your 5-year-old self?
You don't need to have a single career or dream job in mind. There is a myth that you should know what you want to do or can only do one thing. Some of the jobs I have held I didn't even know existed when I was growing up or studying. Follow your instincts, stay open-minded and pay attention to what excites and motivates you!