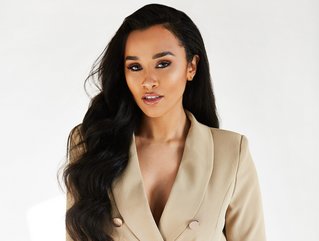 Credit: Sian Gabbidon
We caught up with former Apprentice UK winner, Sian Marie, to see how she grew her business from a bedroom swimwear company to a loungewear specialist
It's the little things that make growing businesses stand out – and this certainly rings true for Sian Marie's eponymous loungewear brand. With its mission to empower women, Sian Marie has created a thoughtful brand that intends to make women feel good about what they wear. We sat down with her to discuss the highs, the lows and, most importantly, the future of her business.
So, tell us how it all began?
I first set my brand up in my bedroom, when I was 21. It was predominantly swimwear, and I made everything myself – I had no money, no investment, but I slowly managed to build things up.
Then, in 2018, I applied for The Apprentice – and I won! As the winner, Lord Alan Sugar invested £250,000 into my business, which enabled me to grow at a much faster rate. Since then, we've transitioned to specialise in loungewear, and our ethos is to make women feel good about themselves through wearing our brand.
What inspired you to launch Sian Marie?
It happened very organically – I never thought "right, I'm going to sit down and start my own business". After I graduated from university, I landed a marketing position and designed and made swimwear on the side, because that's what I love doing. At first, I had no real business experience, but I knew I enjoyed everything about designing; sketching, creating and planning the fabrics – that's my bread and butter.
Now, I do a lot of talks with kids in schools. It's important for me to be a role model for them – especially as I'm mixed race – as, when I was younger, there was no one that looked like me to look up to. So now, it's nice that I can be that person for others.
What would you say to those that may not have the funding to start a business?
Be really savvy with every penny. And if you have little bits of money, be really sensible about how you use it, because it's easy to blow money pretty quickly on various different things when setting up a business. So be smart and be savvy.
What makes your brand stand out?
Our sole purpose is to make women feel good, by providing high quality clothes that are super soft and comfortable. We try to do little things to make our brand stand out, for example each garment has a little message sown on the inside to empower the woman who wears it.
A lot of people buy clothes today because they're super cheap – that's not right. Although our products are reasonably priced, they're made to a really high quality so they withstand the test of time. We don't make huge bulk productions and we are as sustainable as possible.
And what would you say your biggest success has been as a business woman?
My greatest success was probably my biggest challenge, too – which would be COVID. As a UK-based swimwear brand, sales dropped because all events had been cancelled. Swimwear wasn't in demand.
I had to completely adapt the business. I had planned to introduce loungewear to Sian Marie, but not as quickly as we did. It was tough as no one knew the answers or the 'right' way to do things – even Lord Sugar's advice was literally just to make it through.
So ensuring that the business survived through such a terrible time was a great success, and I'm thankful for it, as I know many businesses didn't have the same outcome.
What future plans do you have for Sian Marie – what's the dream?
There are so many dreams! I'm really excited to expand the loungewear range and continue driving our ethos, so our customers know who we are and what we stand for. We're focused on creating a lifestyle and wellness community too, so our customers don't just buy the clothes to look good, but because they agree with our mission. We have a new blog section on our website covering topics such as mental health and general wellbeing for example, to help the two marry up.
We've also recently partnered with George at ASDA, so our loungewear is stocked across the UK, and we'll be expanding to more stores soon. I love having our products in stores because it gives people that chance to feel the quality and truly understand what we're all about.
I may be well-known for winning The Apprentice, but I want to change that and become known for my brand, Sian Marie.