Serena Williams's retirement: What it means for women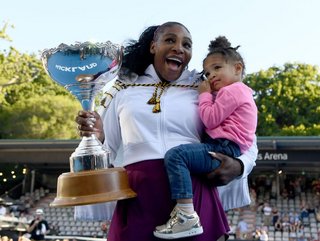 Serena Williams with daughter Olympia Credit: Getty Images/Hannah Peters / Staff
Tennis star Serena Williams recently announced her retirement to focus on expanding her family – news which has devastated women across the globe
"Something's got to give," are the words that tennis legend Serena Williams penned in her essay to Vogue, announcing her retirement.
These are also words that many parents – particularly women – will resonate with, as they realise, as Serena did, that we can't always have it all. We can't always have a successful career and a family.
This concept probably doesn't surprise many career-driven women, yet it's still a hard pill to swallow. Although we're taking baby steps to equality, we are seeing improvements in many areas.
For example, there are now more women than ever at the helm of Fortune 500 companies (44) and there's mounting pressure for employers to adopt flexible working to support employees with dependent families. But having one of the greatest sporting stars of all time stepping back from her career, primarily because she wants to focus on expanding her family, is heartbreaking. And many other women across the globe seem to agree.
How Serena's retirement has impacted other women
Sanya Richards-Ross, four-time Olympic champion, retired after the 2016 Olympics Games, to focus her energy on starting a family. She says: "I always knew I didn't want to start a family while I was still competing.
"I feel being an athlete is the most selfish role you could have because it's always all about you. Resting, recovering, training. Everything is so hyper-focused on the athlete. And being a parent is the opposite of that."
Likewise, mother-of-two Kirsten Corio, chief commercial officer for the US Tennis Association said: "The realisation is a little bit crushing, that as a woman you can't do both as an athlete at the top of your game.
"It's a lot of emotions to process, both as a fan of sports and of working moms. The one emotion that I can boil it down to, really, is just gratitude."
The next steps for Serena
Although Serena is stepping back from tennis, she's certainly not stepping back from her business, Serena Ventures. Much of her retirement essay discusses the transitions she's faced in life, from tennis player to mother to venture capitalist.
This year alone, Serena Ventures raised US$111mn for an inaugural fund, and much of its portfolio consists of companies started by women or people of colour. Serena Ventures will now be the sport star's main business focus.
Although Serena clearly still has a bright future ahead, with many glass ceilings to smash in her wake, her essay shares the voices of many women who have been and will be in the position where they need to choose between their career and a family.
She wrote: "Believe me, I never wanted to have to choose between tennis and a family. I don't think it's fair. If I were a guy, I wouldn't be writing this because I'd be out there playing and winning while my wife was doing the physical labour of expanding our family. Maybe I'd be more of a Tom Brady if I had that opportunity."