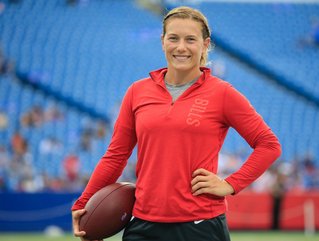 Phoebe Schecter
Phoebe Schecter didn't find her passion for American football until she reached the UK. Now, she uses the sport as a tool to educate and unite others
Explosive power. Tactical manoeuvres. Fast decision-making. Strength, agility and speed. What do these attributes all have in common? They'll all be found on the American football field. Although the game is typically dominated by men, with only 10% of America's 5.5mn players being women, American football buff Phoebe Shechter is on a mission to increase the representation of women in the sport.
Hi Phoebe, how did you start playing American football?
I was 22 years old when I moved from the US to the UK to work for an English gentleman on the Dutch Olympic team. Although I was enjoying the role, I found myself missing home and wanting to make new friends. I then saw an ad on Facebook for trials for Manchester's American football team and I saw it as a sign. Even though I had no prior experience or interest in the sport, I wanted to give it a try as I always believed that you're more likely to take risks and thrive when you are out of your comfort zone – so that's exactly what I did!
I'd never played a contact sport before, but I fell in love with it and somehow made the team. We then became the first English NFL team for women, and from here, I started coaching.
What does the sport now mean to you?
At first, I didn't understand the sport, but when I started playing and I found a position that spoke to me, I really fell in love with it. It also became more than just a hobby – I made friends, so it felt like a community. Only the other day I attended the wedding of one of the girls I met in my first season almost 10 years ago; that's what I was looking to build.
I also use sports as a form of meditation. It's the only time I can switch off from thinking about other things in work and life, for example. Although I've played sports throughout my life, NFL is the first sport I've come across that's inclusive to everyone – no matter their height, weight, or body type. I see it as a game of chess; everyone has to work together to out-wit the other team. So you might just have to run in a straight line, but by doing so, you're helping someone else in your team. I love the element every player is like a cog in a machine and everyone has to do their job for it to function properly.
What would you say to others that would like to get involved but are apprehensive about the contact element of American football?
There are contact and non-contact versions of American football, so physicality shouldn't be a deterring factor. But I always encourage others interested in finding out more to just go for it and give it a try. There are so many different elements to the game, whether that's working out a strategy, coaching, drawing stats or being a player, that there's something to suit every skill set. But even if you've tried it and figured it's not for you, at least you can say you've tried something new!
Through your role, how are you trying to enhance diversity, equity and inclusion in the sport?
I work on creating a number of initiatives to improve the sport, asking what our sport looks like, who are the stakeholders, and what are their needs, for example. But a lot of what I do is celebrating or educating others on essential topics, such as transgender athletes, encouraging more minorities into the sport or elevating the LGBTQIA+ community. We encourage people to tell their stories in the hope that others can relate. Another huge topic we cover is having a baby within sports and what this looks like for parents.
So how does parenthood impact a mother's ability to play American football?
We found that a lot of women thought that, once they turned 30 and had a baby, they had to stop playing American football – but that's really not the case. What's really cool about our women's teams – and even one of the men's teams – is that players are encouraged to bring their kids to practice sessions, so they can all play together. This brings such a great sense of the community as, often, when people fall pregnant or have a family, they can't do many of the things that they used to do. But even those who are watching on the sidelines are encouraged to cheer on their friends or to go for a coffee and cake after practice to ensure they're still part of the community.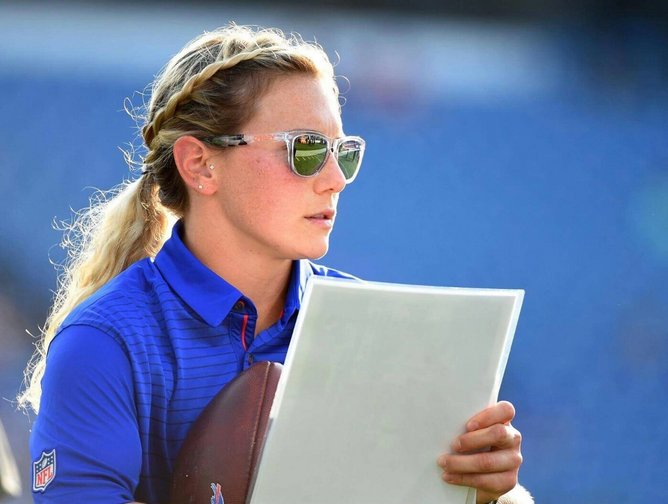 Phoebe Schecter
What obstacles do you think deter girls and women from joining the sport?
For younger girls, there's the element of not being comfortable in their own bodies. In the UK, girls will often have to play in mixed-sex teams, which can make people feel uncomfortable. I've also found that some people don't think they have the right body type to play sports, but the truth is that we need people of all different shapes and sizes. Learning that that is a strength, not a weakness.
American football can be seen as a male-dominated sport. Why is it important to have a female voice and role models present?
Truthfully, I don't care which sport it is, women have just as much of a right to have the knowledge and to have passion about something, whether it's seen as male-dominated or not. I don't think it should be gender-based. As the representation of women in sports is growing throughout the media, it's showing young boys and girls that women can achieve these roles and that they're there because of their knowledge, not just for visual purposes or positive discrimination.
Encouraging more women to pursue careers in sports is one of the key ways to boost their representation because if you can see it, you can believe it, right? I never thought I could be an American football coach because I never saw one that looked like me – they were always men. So by ensuring women, as well as people with different religious backgrounds, abilities and ethnic backgrounds, are represented in sports, we're showing the next generation that they can do anything they set their mind to.