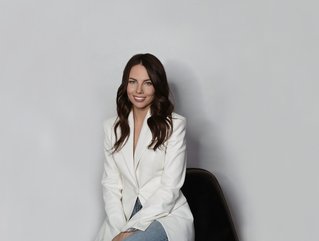 Katerina Antonova
Taking the leap of faith required to start a business is never easy, but Katerina Antonova, Founder of Aeris PR, is on a mission to inspire other women too
Like many women, Katerina Antonova, was initially fearful of what her entrepreneurial journey would look like – until she took the step, and never looked back. We sat down with Katerina to understand more about her global agency, Aeris PR, and to take note of any advice she's willing to pass on.
1. Hi Katerina! Could you start by telling us a little about yourself and Aeris PR. How did your journey begin?
Since high school I knew that my life would be connected by communication with people, marketing and sales, because I can find a common language with almost everybody. I am able to convince people and overall I have always been quite active and outgoing. I have a Master's degree in Public Relations and after graduating, I almost immediately got a role for a Russian fintech start-up, where I worked for over 5 years.
After that, I continued working with tech start-ups as an independent PR consultant, and later joined an international PR agency. I was also engaged in business development and went to many international conferences.
After a while, I decided to start my own business, so I opened Aeris PR agency. This was an important step for me because up to that point I thought that entrepreneurship was not a women's business and that I would hardly succeed. In my social circle, there were almost no successful examples of companies created by young girls. But a new inspiring environment, books, new knowledge, and working through my limiting beliefs had a great impact. After that, there was only one question: "Why didn't I do this before?". Having my own business gave me such a level of freedom, and it came with the level of responsibility that I always really wanted.
Now I support female entrepreneurship, including through my own small and members-only community, Womenpreneur Club, where we share experiences and support each other with other active and ambitious women. Now almost all of my friends and the girls I know are entrepreneurs. It's interesting how quickly the change in attitudes and limiting beliefs uplifts everything around you, and what you didn't notice before turns out to be your new reality.
2. What do you want to achieve through Aeris PR - what's the main aim?
We are well-versed in the technology field and understand our clients' business needs profoundly. Our profile is no accident: we authentically want to spread innovative technologies that make people's lives better across the world, and we apply our PR knowledge and experience to pursue our passion and mission.
3. Owning your own business must come with a plethora of successes – what stands out the most for you?
I consider each of our clients to be a success. Having an opportunity to work with them and tell the world about tech start-ups is very rewarding because we know the big ideas behind each of our clients.
The same goes for every publication that we gain, because pieces in media are steps to a brighter and more innovative future for all. Many of our clients are featured in top-tier media like TechCrunch, Forbes, Entrepreneur and more, and it is definitely not something that can be taken for granted. With all this, I am sure that our biggest success lies ahead!
4. Likewise, you must have received your fair share of challenges too. Could you tell us about a couple?
Aeris PR team is global, and obviously, we work remotely. Though for us, it's more a joy than a challenge, still there are situations when effective arrangements of team meetings across all time zones require effort.
Plus, the very recent global crises in the face of pandemics deprived us of all offline events. For me, conferences, product launches and other events have always been a great opportunity to stay in the loop and grow a professional network. Fortunately, things have been getting back to normal ever since 2021, depending on the region, of course.
5. So, what makes Aeris PR unique?
Firstly, we are well-versed in the technology field and understand our clients' business needs profoundly. Secondly, we are KPI-driven. One of our main strengths is that we guarantee the fulfilment of KPIs (quantity of publications in Tier 1 and Tier 2 Media), which we set together with a client.
Our main focus is Media Relations and Pitching, and we also do copywriting, because we have professional Writers and Editors on our team (mostly ex-journalists). Our clients range from FinTech, AI and Saas B2B to HealthTech and VC funds, including Just AI, Zerion, Cyclebit, Propy and B9, to name a few.
Also, Aeris PR is an international team, and we operate not only in the US but in Europe and Commonwealth of Independent States countries as well, which gives us powerful leverage because not many agencies do that, especially in the tech field.
6. What advice would you give to other ambitious women hoping to start their own business?
Be curious, brave and don't give up. Keeping your mind open and always on the lookout for things: stories, people, events, experiences and challenges, which are essential because that's how you explore the world. If it wasn't for my curiosity, probably I would be satisfied with a 9-5 office job, being told what to do.
Maintain resourcefulness and persistence. I don't stand for the "no" or "impossible" attitude in work and life. I believe we can always find ways to make something happen, and I definitely can recommend this mindset as a practical business technique – however, don't forget to keep it sensible!
As I mentioned, I once was afraid to start my entrepreneurial journey. Now I meet dozens of successful self-made female entrepreneurs each week, no matter the country I am in. They made it, I made it, so you can, too!
7. What future plans do you have for Aeris PR?
We want more clients worldwide, more technological niches to work with, more talents in the team! But of course, it is not only about wanting more in terms of quantity. I am also looking forward to extending the agency's expertise in the most cutting-edge tech fields, potentially augmenting our list of services and collaborating with other distinctive PR players.
We plan to stay a boutique agency for a while, focusing on fostering talented PR executives inside the team, and if you're a tech communications enthusiast, drop us a line — it might be you we are looking for to join our small team!