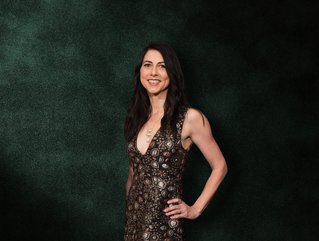 Credit: Getty Images
"Behind every great man there is a woman," a saying that couldn't ring more true in the case of Amazon founders Mackenzie Scott and Jeff Bezos
Let's go back to 1994, when Whitney Houston was in her prime, Nelson Mandela was elected President of South Africa and newlyweds Jeff and MacKenzie had quit their jobs to embark on a road trip of a lifetime. With MacKenzie at the wheel headed from New York to Seattle, Jeff sat beside her frantically writing a business plan.
Upon reflection, it may not have been their most financially responsible decision, but MacKenzie had been eagerly tracking the rapid growth of internet usage and Jeff had ideas of launching an online bookstore – the two seemed to marry up well. After encouraging Jeff to pursue the online business, MacKenzie became Amazon's first full-time employee sorting problems related to paychecks and travel.
The rest is history, and Amazon is now one of the largest online retailers in the world. But although MacKenzie provided support, encouragement and advice to Jeff, her name was often left unspoken until their divorce in 2019. And, as you can imagine, the divorce settlement was costly.
As part of the settlement, MacKenzie received 25% of Amazon's stock, which gave her a 4% stake in the company. With US$35.6bnn in her bank account, she was now one of the richest women in the world.
But MacKenzie is different. She isn't like other billionaires who use their wealth on lavish cars, expensive houses and trips to space – she's more focused on giving it away. Shortly after she announced her divorce, MacKenzie shared two vital pieces of information. Firstly, she would be dropping 'Bezos' as her surname, and secondly, she revealed that she had donated over US$1.7bn to help with charitable causes, such as racial equity, climate change and public health. She also signed a PledgeFund to give away more than half of her wealth over the course of her lifetime. She said: "I have uni….."
MacKenzie has gifted, sold or transferred around 1% of her Amazon stocks, worth approximately US$350mn. And of course, as the rest of her Amazon stocks skyrocket, so does her wealth. Amidst the Covid-19 pandemic, Bloomberg reported that MacKenzie's net worth climbed to US$66.4bn.