Celebrities supporting new cervical cancer campaign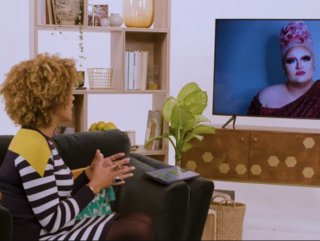 The UK has launched a national cervical screening campaign after data has shown nearly one in three women don't take up screening offers.
Backed by a number of celebrities and TV personalities, the The Help Us Help You – Cervical Screening Saves Lives campaign urges those who are eligible to accept their appointment invitation.
The Department of Health and Social Care (DHSC), supported by the NHS, hopes that raising awareness will save lives by increasing the number of attendees, as research suggests that embarrassment is one of the leading reasons individuals miss or reject their appointments. Those who missed their last appointments are also being encouraged to rebook.
Big names with big influence
The Help Us Help You campaign features a number of celebrities, including TV personality Scarlett Moffatt, Loose Women star Linda Robson, broadcaster Louise Minchin, female activist Sharon Gaffka, and RuPaul's Drag Race UK contestant Victoria Scone.
Scarlett Moffatt said: "A few years ago, my cervical screening may have saved my life. The screening detected HPV and abnormal cells linked to the development of cervical cancer, and I underwent treatment to have the cells removed. If I hadn't been to that appointment, I don't know what situation I would have been in now."
Victoria Scone has spoken out to encourage ethnic minorities (black and South Asian) and LGBTQ+ communities to attend appointments, as research shows that these groups face more difficult barriers. Victoria says: "Initially I was uncertain as to whether a cervical screening was imperative for me as a queer woman.
"However, this new campaign has clarified that all women and people with a cervix, including those in the LGBTQ+ community like myself, are eligible for a screening, so I booked myself in. I think it's so important to openly talk about cervical screenings and encourage each other to attend theirs."
The campaign will place particular emphasis on stopping cervical cancer before it starts, while supporting charities, such as Jo's Cervical Cancer Trust.
Research behind the issue
In England, around 2,700 people are diagnosed with cervical cancer each year, with approximately 690 dying from the disease, according to the DHSC's latest figures. Data suggests that screening can prevent 70% of cervical cancer deaths, which rises to 83% if everyone attended regular tests.
DHSC also released data showing that out of 3,000 respondents, 42% said they never attended or missed an appointment because of embarrassment, 43% 'kept putting it off' and 28% were worried it would be painful.