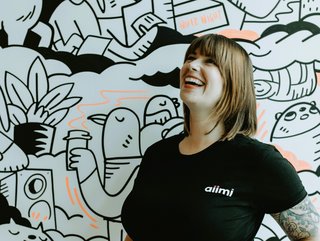 Looking after our wellbeing is fundamental to our overall health and happiness, but knowing exactly what to do and how to do it can be hard.
As the Head of Employee Engagement and Wellbeing at Aiimi, Charlotte Richmond is responsible for ensuring that everyone within the organisation is receiving the correct advice, guidance and support. We sat down with her to understand a little more about her success story.
So, tell us a little bit about yourself and your career so far.
I didn't know what I wanted to do when I left school, other than knowing that I wanted to work with people. I studied a degree in Mental Health, worked for a charity, studied a Masters in War and Psychiatry but then fell into recruitment in 2012. I loved internal recruitment, being able to go through that journey with people and then seeing them grow in their role was inspiring to me. I joined Aiimi in 2017 and was able to bring my passion for mental health and wellbeing to the workplace. I have been able to grow my knowledge and skills in these areas since, becoming an advocate for workplace wellbeing!
Could you break down your job title – what does your day-to-day entail?
Employee Engagement and Wellbeing can cover so many different areas. At Aiimi, it is all about our people. Are they engaged? Are they well physically and mentally? Is there something more that we could be doing for them? No two days are the same for me. One moment I am supporting someone in finding the best counsellor in their area, the next I am drafting a Menstruation and Menopause policy. In between that I might be working with other team members on our internal initiatives, focusing on topics such as DE&I and carbon neutrality, or attending a school to talk about Women in STEAM. I love the variation in my role!
What do you enjoy the most about your role?
Other than the variation, the one of the aspects that I enjoy the most is just how much I can do to support the Aiimi team and their families… We are all one big family really. People are my ultimate passion and being trusted to support someone when they need it is a privilege. I really enjoy being able to get into the office, not only is it an amazing space to work, but sitting with someone in person beats a video call any day!
How can companies work to create better environments that support individual's wellbeing?
The most beneficial environment to support wellbeing is one that focuses on the individual. Ensuring that a "one size fits all" approach is a thing of the past and allowing people to carve out their wellbeing path is essential! What works for me won't work for someone else, allowing flexibility and autonomy in a trusting workplace will see great results for both wellbeing and the business. Ask people what wellbeing means to them and what they would want from any wellbeing initiatives. Often the people putting policies in place have a different expectation of what is wanted or needed than those on the ground, so don't be afraid to ask the question!
What tips would you give to anyone looking to improve their general wellbeing?
I would start with one area and achievable goals and build on your wellbeing journey from there. Wellbeing is just that, a journey, you need to take your time to get to where you want to be. I also think it can be helpful to find people with similar goals, so that you can support each other! I know I am much more likely to get out for a run if I have to knock for a friend on the way!
Looking back on your career, what advice do you wish you could have given yourself when you were just starting out?
To use my voice and value the experience that I bring to the table. Don't be afraid of putting forward a view that differs from others in the room, as chances are, they haven't thought about it from the perspective that I would have.