Canada to launch first women's football league in 2025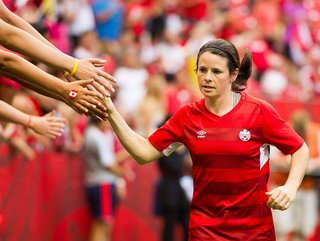 Credit: Getty Images/Rich Lam
Project 8 has revealed that an eight-team domestic women's football league will launch in Canada in 2025, which will be sanctioned by Canada Soccer
Football legends Diana Matheson and Christine Sinclair have unveiled plans to create Canada's first professional league for women, launching in April 2025.
The league will welcome eight teams, with the Calgary Foothills and the Vancouver Whitecaps being the first two teams to commit.
"We believe it is important that women build this league, and we are committed to developing something that is built different, for women by women," Christine says.
"We want to change the soccer landscape in Canada so women's players can develop and play professionally here at home instead of having to go abroad, as every one of our national team players must do now to be successful."
The league, which has not yet been named, has already received backing from Air Canada and CIBC and will be sanctioned by Canada Soccer.
It was founded by former Canadian national team player Diana Matheson and her business partner Thomas Gilbert, co-founder of Project 8 Sports Inc.
Canada women's national soccer team is the reigning Olympic champion and is currently ranked fourth in the world.
Creating opportunities for Canadians
The new league will also offer a minimum wage that is in line with the National Women's Soccer League in the US, with a maximum of $75,000. Each club will also have a salary cap with the option to spend higher, similar to the US model.
It is hoped that the new league will help elevate women's football, while also creating new opportunities for Canadians.
"We're making this product for everyone who believes in this dream," a spokesperson for Project 8 shared. "This league is about creating opportunities for Canadians. Not just for players, but for fans, referees, coaches, and management. We're here to grow the sport. To bring Canada's first women's sports league to life.
"Women's soccer is the fastest growing sport industry in the world. This league represents an incredible opportunity to get in from the get go."