Code First Girls raises €5.2mn to close the tech gender gap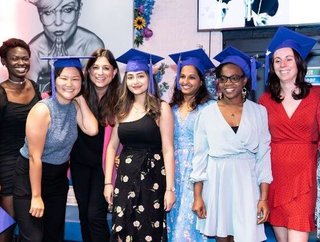 Credit: Girls Code First
Code First Girls, an organisation teaching women to code for free, has raised €5.2 in Series A funding to help close the gender gap in tech
As women occupy only 19% of the tech industry – a figure that's even less for Asian (5%), and Black and Hispanic women (3%), according to Tech Nation – it is clear to see that there is a significant gap in the industry. Research also suggests that the UK tech market will be worth £30bn by 2025 – six times what it is now.
Code First Girls, an organisation that offers free coding for women, has raised £4.5M (€5.2) in funding from female angel investors and a leading investment firm Active Partners, in a bid to help close the gender gap in tech.
Angel investors include former VP of Monzo and Co-Founder and COO of Stealth, former director of Bumble and CEO and Founder of Peanut, CEO and Founder of the UpGroup, COO of MoneyBox, and CEO of notonthehighstreet.com.
Anna Brailsford, CEO of Code First Girls, said: "At Code First Girls, our mission is to close the serious, long-term gender gap in the tech industry by giving women the opportunity to learn to code and get jobs in tech, at no cost to them.
"We're growing at an incredibly fast pace, with businesses, government and universities across the country getting on board because they recognise we've found a model that works."
Encouraging more women to pursue tech careers
Code First Girls has already supported 80,000 women across the globe to learn how to code, and this new funding will enable the company to achieve the ambitious goal of reaching one million women.
To achieve this, Code First Girls plan to offer over 26,000 women the 'CFGdegree', which will help them achieve a role in the tech industry within five years.
"We're proud of both our social and commercial impact, having already taught 80,000 women to code for free, linking talent with jobs, and having recently 10xed our revenue and user base," Anna adds. "Our next goal is to become the world's first EdTech unicorn dedicated to women."
Anna continues: "This funding round is a vote of confidence from major figures in the tech industry, who see our pioneering model as a solution to the tech gender gap. We'll use this investment to provide one million opportunities for women to learn to code for free and enter the industry, driving a huge £1 billion in economic opportunities for women and a boost for the entire sector."
Increasing diversity within the tech sector
Code First Girls is also focused on improving diversity within the tech sector, to answer to the growing global demand for developers by connecting female and non-binary talent with organisations.
"There is a desperate need for more diversity in tech and we founded Code First Girls to deliver it," says Matthew Clifford, Co-Founder of Code First Girls. "Following the success and astounding growth we've had, investors are clearly sitting up and taking notice.
"Their faith in our model will support us to significantly scale up the company and bring our work to more tech businesses. This is an exciting new chapter for Code First Girls, and we have ambitious plans to reach even more women, providing one million more opportunities for education and employment, turbocharging the tech industry and boosting the economy."