How and why you should start a business with your spouse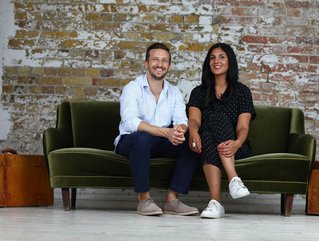 Credit: Flash Pack
Ever thought of launching a business with your loved one? Radha Vyas, co-founder and CEO of travel company Flash Pack, shares why it may be a good move
On Radha Vyas's first dates with her now husband Lee Thompson, they discussed launching an adventure travel company specialising in curated, boutique trips for solo travellers in their 30s and 40s. Now, over a decade later, they're the co-founders of Flash Pack, a company that offers exactly that, while also working towards their mission to create 1 million meaningful friendships across the globe using the power of travel.
We sat down with Radha where she shared what it's like to run a business with her partner – from overcoming obstacles together to her advice for other women who may be starting a business alongside their partner.
Why is it great to work with your spouse?
Every day I get to go to work with my best friend. We have full trust in each other as we share the same life goal of building the best business we can together. Doing your most important work with the person you love the most is a gift.
What are the challenges of working together as a couple?
We find that because work is such a large part of our lives together, it's hard to escape the topic. Even if we're trying not to, we'll go from talking about something personal to work chat and back again; sometimes without even noticing it. This is great when all is going well, as we absolutely love what we do; it's what gets us up in the morning and is the sum total of a whole load of hard work and dreaming, ever since we first met. But if, for whatever reason, we're struggling, it can be hard to separate work pressures from our personal lives and vice versa.
The other area I think isn't discussed so much is the impact it has on family life. Lee and I are super-passionate about what we do, so we'll often be locked in these intense conversations – and our four-year-old daughter is left trying to catch our attention. So that can be hard, and we have to make a conscious effort in those moments to ease off the work talk and put the focus back on her.
How do you maintain work-life balance, especially with kids and also running a time-sensitive business?
Bookmarking time together is really important to counteract the immense stress of running a business – while making sure everyone in our little family is content and happy with their lot. We have a rule that when we are with our daughter, phones and laptops are away so that we are fully in the moment with her. It doesn't always go to plan but we make a special effort at breakfast and dinner time.
Lee and I also make time to have evenings or even a solo weekend away alone to recharge; and we also have a monthly date night together, usually for dinner at a local restaurant. Work chat might filter in at some point, but at least it's against the backdrop of wine, food – all the good stuff!
Other than that, any semblance of balance comes from the kind of healthy habits we hear about all the time; they do really make a difference, but it can be surprisingly hard to arrange things so that they become second nature. For example, we'll make an effort to eat healthily by working with a nutritionist and ordering meals from a recipe box brand like Gousto. We also spend a lot of time on daily workouts, meditation and business coaching/mentoring.
How do you get downtime, or travel for joy, while also running a business together?
Well, the nice thing about running your own adventure business is that you get to sample the product now and again! It sounds like a perk – and it is – but it's also very important in terms of designing a trip that feels unique, personal and meaningful. For example, last year, we three travelled to Sri Lanka together. With the support of Flash Pack's fantastic country guide, Suren, we were able to try out all kinds of fantastic experiences; from Tea Country hikes to iconic train rides, meditation and some beautiful boutique hotels. That was three weeks full of joy and quality time together, but we also got work done. We even developed a flexible working policy off the back of it, which enables our employees to work anywhere in the world they fancy for month-long placements. I guess if you are lucky enough to have a business that walks the line between what you do and what you love, the trade-off becomes a bit easier.
What have been your biggest lesson learnt working with your partner?
We've found that it's important to set out boundaries on who's responsible for what from the outset. You need clearly defined, separate roles that complement your skill sets. So, for example, at Flash Pack, I'm in charge of operations and finances as my role is CEO whilst Lee leads on all brand-led and marketing decisions in his Chief Marketing Officer position. We have a say on each other's sides of the business but we also each have the final veto on strategy within our own areas.
I think it's also worth not setting that "don't talk about work outside work" embargo. We tried once, and it only made us feel bad because we could never stick to it. The reality is, inspiration strikes wherever you happen to be; Lee and I will always have ideas to talk about together. So, accept and embrace that crossover. By working together, work becomes a central part of your life and your world; but if you love what you do there's no need for too much separation.
What advice for couples who are looking to go into business together?
Anything that puts stress on your relationship – whether that's buying a house, running a business or having a child together – will amplify the dynamic you already have. So, if you already have a tendency to argue when you're tired or overwhelmed, it's worth addressing that before you make the commitment to going into business together; when you'll be in the situation of facing constant, consistent stress.
At the same time, running a business together – like buying a house or starting a family – can be really exciting and joyful. The key is to choose something you both love and are 100% passionate about; because that drive will keep you going through the inevitable bumps in the road.
What was your favourite moment as a couple working together?
Funnily enough, they're both harder moments in Flash Pack's history. The first is all that hustle that came when we first began back in 2014. With zero budget and narrowing options, we took a risk with a multi-award-winning viral campaign, in which Lee scaled the Christ the Redeemer statue in Rio de Janeiro. As the first-ever person to take a selfie from the top of the iconic landmark, the photo led to 1.2 million website hits in two days, and a steady stream of bookings from then on in. It was the publicity jumpstart we needed.
That grit also came to the fore when Flash Pack 1.0 went into administration during the Covid lockdown. With revenue disappearing overnight, we lost all our 52 team members and were forced to shut the business; it was gutting. Looking back now, I am so proud we managed to buy back our assets and see Flash Pack live once again, by re-mortgaging our home. Lee helped all of our customers claim a refund whilst I raised a multimillion pound series A investment; no mean feat in the shadow of Covid, with global travel still slow to re-open. Against all odds, we saved our brand and now we are thriving once again. It was amazing to realise how we could keep each other strong during that time, and be resilient enough to make a market comeback. More than anything, it made us realise we're a pretty good team.