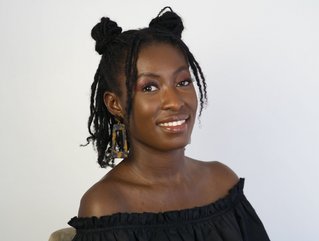 Vanessa Simpson, Brand Manager Wakati, Kao
Wakati Hair is on a mission to celebrate individual beauty, through their products specifically designed for curly, kinky and coiled hair
A passionate group of researchers at international beauty company Kao came together to create Wakati, a new patented formula for naturally textured hair. We spoke to Brand Manager, Vanessa Simpson, to find out more about Wakati's journey so far.
1. Tell us about Wakati's journey so far
The Wakati journey started in 2013, when a group within our US Research Development team asked a simple question: Why aren't there more effective hair care formulas designed specifically for women with type three (curly) to four (tightly-coiled) hair? Inspired to answer their own question, they pulled together a select team of hair skin experts, scientists and African-American researchers and got to work. After five years of research and product development, the team came up with a new patented formula for natural hair with kinks, coils and curls.
After a successful launch in the US in 2019, Wakati is now coming to selected European markets, and we're so excited to hear about our consumers' experience with the range.
2. Tell us about the name 'Wakati' – what does it stand for?
Wakati is Swahili and means "time", which is a homage to generations of people who have used natural hair to connect to their ancestry and culture. Also, thanks to its patented formula specifically designed for the needs of type three to four hair, Wakati centres around saving women time on wash day and making kinks, coils and curls easier and quicker to style.
3. What message does Wakati want to share with its customers?
Wakati is more than just a line-up of hair products. It's a brand that truly stands for its consumers and understands the needs of natural, textured hair. Wakati stands to represent the relationship that women have with their naturally textured hair and how that connection links back to their history and ancestry.
4. What is Wakati's ethos?
The Wakati brand sits at the heart of our strategy at Kao, to create products that recognise the individual beauty in each of us, serve and celebrate diverse hair needs and create a more inclusive approach to beauty. With Wakati, we want to join in celebrating individual beauty, with products that help to make hair care routines faster and easier.
5. What makes Wakati unique?
There are two things: The first is how the brand has been developed – by a passionate group of researchers, who truly wanted to understand about the needs of natural, textured hair and the overall natural hair experience. This is why the team worked with a focus group of women during the early stages of development who were visited multiple times and filmed during wash-days and styling routines.
The team also worked together with Florida University (FAMU), a historically Black college in the US, where we partnered with students to help us conceptualise the brand identity as well as develop our designs. This is a continuing partnership that is still growing today as Kao supports the education of Black students at FAMU through internships, rewards, scholarships, and donations. The other is its patented water-activated technology which includes a complete care system that allows for easier and faster finger detangling, increasing manageability, less shedding and reduced styling time.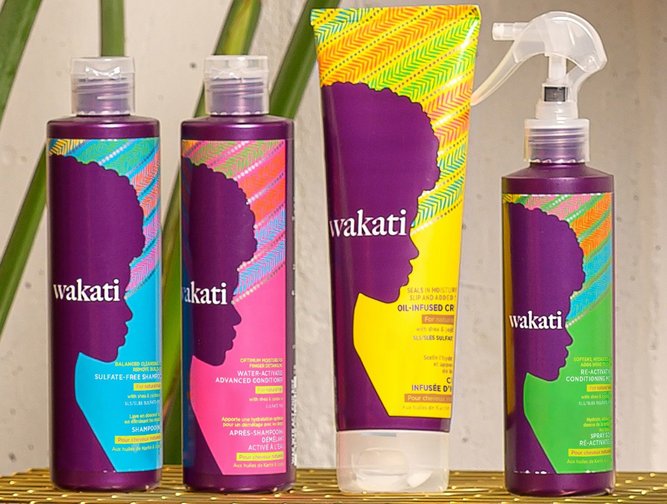 Wakati Hair
6. How has Wakati been received by consumers – what do they love about the brand?
We're just at the beginning of our journey, but so far the response from influencers, journalists and consumers has been very positive, with great feedback on the packaging design, to the overall concept behind the brand. But what makes all the difference is the formula which consumers tell us is a real game changer for hair care and styling routines, as it saves time and money so she can truly embrace the beauty of her naturally textured hair.
7. What has the greatest success been for Wakati so far?
When you develop a brand like Wakati the greatest success is the positive feedback from our consumers, which we see on our social channels as well as in the positive ratings of our products on the retail platforms. Kao has always been about developing brands that really address consumers´ needs and help them to live what we call a Kirei Life, a more beautiful life. With Wakati, we've taken our time to develop a truly authentic brand that addresses the needs of natural, textured hair.
8. Does Kao have any future plans to expand Wakati?
After a successful launch in the US and the positive consumer feedback, we clearly saw the potential of the brand. We have invested in consumer research to really understand the consumer needs in Europe and have carefully chosen the markets for a future expansion. Wakati is now launching in the UK and the Netherlands, followed by France this summer. And we are currently exploring similar partnerships to the ones we have in the US, ensuring that we can continue to celebrate and support the community in areas of education and culture. Watch this space!