Top 8 female-owned fitness brands you need to check out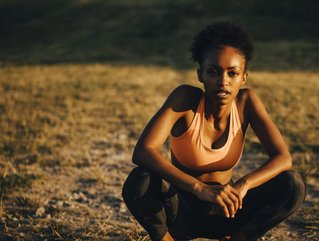 Credit: Getty Images
Next time time you fancy treating yourself to a new activewear outfit, take a look at these brands to support female-owned businesses
Whether you're a fitness enthusiast or you just enjoy wearing comfortable activewear around the house, we've rounded up our favourite female-found brand, that will help you feel fantastic.
08: The Upside Down
Based in Australia, The Upside Down was created to bring colour and soul to activewear – and they have achieved just that! With a beautiful selection of garments, The Upside Down boasts a wide range of high quality activewear and accessories that are guaranteed to withstand the test of time.
07: Silou
Silou is a luxury activewear brand specialising in clothing that feels good on the body, will will support you during your workout, and is kind to the planet. Made to reach all of your active needs, from morning walks to bedtime yoga, Silou's clothing is always mindfully manufactured and beautifully designed.
06: Girlfriend Collective
They may not be turning water into wine, but they are turning water bottles into clothes. By collecting consumer-used plastic bottles, crushing them into miniscule chips, washing them and adding a few eco-friendly additives, Girlfriend Collective makes super soft gym wear. Their yarn is made in a zero-waste, zero-emission facility and their packaging is 100% recycled and recyclable.
05: Aire
Providing supportive, sustainable and stylish activewear, Aire offers comfortable leggings made from a range of different fabrics, including bamboo, cork, recycled cotton and organic cotton. Founded by Rachel Watkyn, Aire provides activewear and sportswear for both women and men, while also having a unisex collection.
04: Elle Evans
Explore the amazing range of swimwear and activewear from Australian designer Elle Evans. Elle Evans' donates 1% of all sales to the Healthy Seas Initiative and ensures that all fabrics are made from recycled ocean plastic. This inclusive brand stocks garments in sizes XXS to XXXL.
03: Feel Fit
This multi award-winning company creates sustainable clothing designed to make you feel good about yourself and your workout. Through the activewear range and Feel Fit programmes, the brand aims to inspire consumers to be the healthiest, fittest and happiest version of themselves.
02: Ballet Fusion
Want your activewear to feel like a second skin? Well, you've come to the right place. Ballet Fusion is home to a range of butter-soft leggings, tops and sports bras, available in three stunning colours: purple, orange and red. Garments are finished with beautiful detailing and have single seams, to ensure you feel great all day long.
01: TALA
Focused on providing high-quality, sustainable and ethically-produced activewear, TALA was conceptualised to fill the gaps in founder Grace Beverley's wardrobe, to deliver what the fitness industry was missing. Each range is made with comfort and performance in mind, to ensure every garment provides exceptional fit, style and quality – without a hefty price tag.