A day in the life of March8's Marketing Manager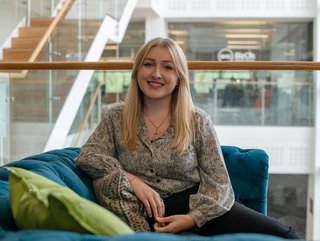 Marketing doesn't just mean posting on social media. Join Emily Cook for a day in the life heading up March8's marketing
Picture this: You work alongside three incredible women and a marketing team. You are part of a global company working with some of the world's leading organisations. And you get to use your voice and platform to promote positive change and empower women no matter what industry. Welcome to my world.
In this 'Day in the Life', you will learn how a marketing manager at a digital magazine and events company organises and schedules content, builds and sends newsletters and manages the whole 'WFH' situation (this is still a work in progress).
Managing and scheduling content
Starting off the day, I take a look at my calendar which has tasks to help structure my time. Every morning between 8:30 and 9:00, I check all our social media platforms and reply to any emails.
When 9AM hits, it's focus time – I've set up an 'event type' that blocks out my calendar to automatically decline new meetings. Having this in my calendar allows me to get the most important tasks completed when I'm most productive as it prevents interruption and distraction.
Usually, I use my focus time to schedule and plan content. I keep a Monday board to organise all of the content, events and upcoming projects that we have at March8. This allows me to manage my time and interact with team members without it getting lost in conversations about our Taylor Swift Song Of The Day (TSSOTD) and mood-themed GIFS.
When it comes to scheduled content, as March8 sits across multiple platforms (LinkedIn, Twitter, Facebook and Instagram) I leverage Hootsuite to efficiently post, duplicate and manage future content.
Just before lunch, I do March8's weekly newsletter which we send via Mailchimp – the best email marketing tool I've used. Our newsletter is a one-stop shop for the latest news on women in business as well as a newsboard for upcoming magazines and events that we feel benefit our global audience (you can sign up here). We have a template that we use and once it's all updated, *chef's kiss* it's ready to schedule.
Working on Instagram
We all know the struggle of creating a pretty Instagram grid, so I spend a few hours a week creating the graphics and captions that hit the IG world. March8's amazing designer, Beks, creates templates on Adobe InDesign, which I edit every time we release a new magazine.
To organise and create the perfect grid (seriously, it's a struggle) we use Adobe Photoshop with artboards to organise and layout our content in the most aesthetic way possible. Once again, I use hootsuite to schedule everything out and also use a handy tool called linkinbio which allows me to add links to our posts, pushing traffic to our website.
Writing, researching and brainstorming
I've just enjoyed a lovely lunch and it's now the final stretch of the day. For me, this is where a mid-afternoon slump can occur hence prioritising my tasks in the morning when I'm the most productive.
I like to spend my afternoons researching current women in business topics and social media ideas, writing content and plans as well as brainstorming with March8 team members.
Today, I had the task of writing the script for the March8 Show that I host alongside March8's editor, Lucy Buchholz. I spent a while researching the topic of women's health and drafting up the script for our LinkedIn live show (which you should absolutely join!).
I then sat down (virtually) with Lucy where we made amendments to the script, added in any data to discuss and even have a quick run-through as we've found things can sound a little clunky if it's not written to be spoken.
Winding down
To finish off my day, I always check all of our social media channels, reply to comments and shares as well as check any messages.
If I spot any news while scrolling through social media, I make a note to either share with Lucy or to learn more about and increase my knowledge.
As I am fortunate enough to WFH, I simply like to spend my evenings going to the gym, eating a yummy homemade dinner with my boyfriend and watching a movie or a new episode of House of Dragon.
To see this article in a TikTok, click here!
Thanks for joining me on my Day In The Life - if you'd like to share the story of your day at work, please ping Lucy an email on [email protected].