A Day in the Life of wine consultant Libby Brodie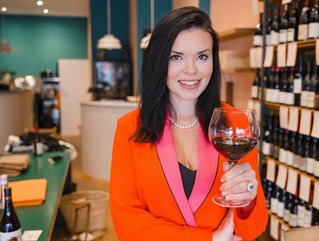 Libby Brodie
Wine consultant and columnist Libby Brodie shares what a typical day looks like for a London-based wine connoisseur
Libby Brodie started her career as a theatre producer on award-winning productions across the globe.
In 2020, she had three productions on the brink of opening, including Dreamwork's Madagascar the Musical, which had been flown to New Zealand, another in the West End, and one regionally that she had been working on for about five years.
Unfortunately, the pandemic forced the closure of all three productions. During this time, Libby pursued a professional interest in wine and qualified with her WSETs (Wine and Spirit Education Trust) over lockdown.
Then, in January 2021, she launched Bacchus & Brodie Wine Consultancy. Only three months later, she was appointed as City AM's regular wine columnist, where she writes "Wine Without The Snobbery" page and contributes to other publications, appears on podcasts, and presents and runs private client tastings.
Libby also co-founded The Wine Collective with three other women in the wine industry, working with wineries and wine regions on social media strategies to engage more diverse audiences.
We spent the day with Libby to find of what life's like as a wine consultant.
Reframing the mind
I generally start my day by being unceremoniously woken up by my three-year-old, any time between 5-6.30AM so the best way I can ensure it begins in a positive manner is to re-frame that rude awakening.
If it is on the early side, it is time for cuddles in bed while we listen to stories. If the latter side, it is time for coffee, which I have black and strong. I have learned the value of reclaiming some time for myself, without feeling guilty about it, so, once I have walked my son to nursery, it is time for something that is just for me.
I go to spin class – I love the choreographed moves and music, which probably reminds me a bit of theatre – and I have realised starting the day with exercise regularly is key to my own wellbeing, even when I think I don't have the time.
Life as a wine connoisseur
The beauty of wine is that no two days are the same. I could be judging 86 rosés in a row (I had to take a small rosé pause for a while after that) or going to a trade tasting to sample wines or taking part in a masterclass for press, learning about a new region or winemaker.
I could be hosting a corporate tasting, sourcing wine for private clients, producing content for socials or – and these are often my favourite days – researching and writing an article quietly at home and getting lost in it.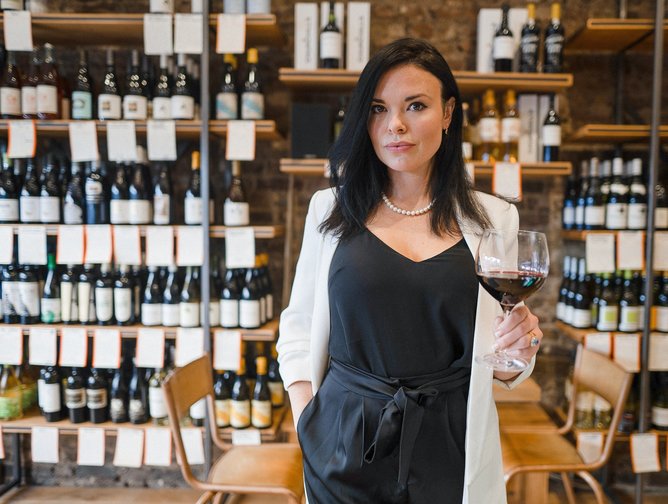 Libby Brodie
I am often interviewing people for pieces or brainstorming new ideas with colleagues, either over Zoom or at my home-from-home, the Groucho Club in Soho. A week will generally involve several big boozy lunches or dinners hosted by PRs and winemakers to showcase their wines, so I try to fast until at least noon to balance it and limit these big meals to one a day.
There is plenty of time abroad, too. Wine is never made in an ugly place, so press trips are a pleasure and can be anything from one to five nights away, discovering new places and learning about new wines.
Embracing the day's highs and lows
Wine is evolving and changing all the time and I love so many of the people I have met in the industry, but it has been fairly traditional for a long time, especially in fine wine circles, and there are still some archaic views and gate-keeping that goes on. It was odd to go from the melting pot that is theatre into rooms that were large, if not solely, full of white men in grey and blue suits. Sometimes people can make assumptions because you don't look or act the way they are used to – but thankfully, that is a challenge I relish.
The highlight of working in this industry is when people come up to me at an event or send me a message to say they have felt inspired by me to learn more about wine and their own palate preferences, or that it was the first time they felt brave enough to ask wine questions and not worry about being made to feel foolish.
I am consumer focused and passionate about making wine understandable, accessible and enjoyable for everyone – that's why my column and youtube channel are named "Wine without the Snobbery". Knowing I'm communicating in a way that is actually having a positive impact and encouraging others is deeply rewarding.
Understanding how to relax
For a long time, I did not understand how to relax, and it felt unproductive to me, but now I'm realising it is another form of productivity.
Now, however, there is no set end to the working day. If I have collected my son from nursery then I'll cook, which I love to do, pour myself a glass of wine and we will have dinner together. I will probably take advantage of the early night and go to bed at the same time as him – by 8PM. I might read but more often I'll rest my eyes and put on an audiobook.
Many evenings I have wine events until late, but even if I come in at midnight, I try to have a cup of chamomile and honey tea and listen to an audiobook in bed to stop the whirring of thoughts. Usually, I will be asleep in a couple of minutes.
Due to my work and motherhood, nothing is regular enough to create a normal "routine". If it is a "mum evening" then it will be as above, if it is a work evening then I'll usually have had my hair done and will be dressed up for the event.
I may be coming from tastings and meetings during the day, so I'll have a change of shoes in my bag as well as my notebook and pens. It is a pleasure to see friends and colleagues at these events so talking and networking are important, but I will make sure I get the quotes, photos and videos I need.
Usually, I will be going through the footage on the way home to make sure I can get it created and posted asap or if it is for an article, I'll be starring especially good quotes, so they are fresh in my mind for writing the piece up the next day. Then it is straight into pyjamas, a quick wash of my face with soap, a cup of chamomile and an audiobook.