Create a harmonious work culture with OnePlan's Lucy Heron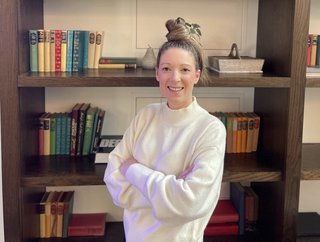 As OnePlan's People & Talent Manager, Lucy Heron is responsible for creating a harmonious working environment for employees – here's how she does it
After beginning her career in recruitment, Lucy Heron took a two-year career break to have her two children. When entering back into the workforce, she moved into operations but still stayed within the recruitment space. Soon after, she had the chance to venture into the world of tech, in a hybrid Office and HR Manager role, further developing her Finance, HR and Operations attributes.
Now, Lucy is the People & Talent Manager at OnePlan, working to create an environment that promotes employees' wellbeing so they can thrive.
We spent the day with Lucy to see how she is achieving this goal.
Starting the day the night before
I actually start my day the night before. That's when I organise my to-do list so I know exactly what the priorities are to start the following day. I like to work on my hardest tasks first for a real sense of achievement as my day progresses. I set goals for the day as I know it motivates me when I achieve them.
I also always go to bed early as I feel far more positive when well rested, along with eating well and exercising – I always try to go for a jog or to the gym, and follow that up with a bowl of granola and plenty of water.
One of our partners at OnePlan, the Paris 2024 Olympics, is running an exercise challenge called 'Go for 30' incentive. The aim is for people to do 30 minutes of physical activity a day to get healthier, and our company has joined that, motivating us all to remain active and pay attention to the needs of our bodies while we work. As a company, we greatly value and promote the benefits physical exercise can have on our team's positivity, energy, motivation, and ultimately, productivity.
A day as a People & Talent Manager
No two days are the same. Some weeks can be very recruitment heavy, while other weeks are focused on onboarding, welcoming and providing structured induction programs to new starters.
I'm currently working on a DEI and unconscious bias project. I have just finished implementing objectives and key results at a strategic level across the business and spent a lot of time working with teams across the business to ensure employee satisfaction is exactly where it needs to be. A big aspect of my job is assisting the team with any development and support needs they may have.
As the days are so busy, it can be hard to find the time to do everything. It's a busy job with many priorities, and I always want to deliver to the highest standard at the best possible time. That's also part of the thrill though, being so heavily involved in important decision-making in a fast-growth company.
Making positive change
One of the most rewarding aspects of my role is developing and implementing new processes. OnePlan is going through a period of rapid growth as we move from a start-up to a scale-up.
There's a lot to do and it's exciting to be able to work with that blank sheet and autonomy. I've created processes and culture for the entire employee lifecycle, including onboarding and induction, and buddy systems for new employees, which I really enjoyed along with the recruiting side of things – building a strong and motivated team for the organisation.
Another piece I particularly enjoy is working on the company values, and helping craft that messaging across the business. We're continually looking to build and develop our culture at OnePlan, which is a remote-first company. This makes initiatives like One Planner of the month, mystery coffee, meet-ups, away days and weeks even more special and fun. I love focusing on employee satisfaction in an ever-changing environment.
Finishing the day off
I have two young children, so my evening routine centres around their busy schedules. I finish work around 6PM, pick my children up from their after-school clubs and it's the same routine most days: dinner (almost certainly a slow cooker recipe), discussion on their days followed by homework, bath and bedtime stories. I'm currently sharing the reading of Harry Potter: The Prisoner of Azkaban with my eldest which has been the best way to switch off from my day and disappear into a fantasy world. I am not on social media and will leave my phone upstairs when relaxing downstairs.
At OnePlan, we have a monthly wellbeing allowance which I use towards a gym membership, so I sometimes go there in the evenings. Another good way I find to unwind is to drift off to sleep listening to amusing podcasts.