From the Navy to Rihanna, how the Super Bowl empowered women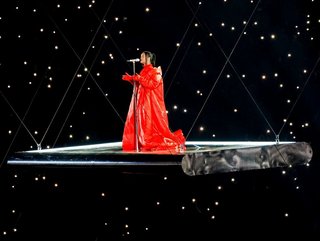 Credit: Getty Images/Mike Coppola / Staff
The Super Bowl LVII was a night to remember, with an all-female flyover crew and Rihanna's iconic performance empowering Black women and Caribbean culture
As one of the world's largest sporting events, the Super Bowl has come to represent much more than just a football game. It has become a cultural phenomenon, with events and activities taking place all week leading up to the big game – and this year, female empowerment has been a particular focus.
All-female flyover
The military hosts a flyover each year while the national anthem plays, which has become a pre-game staple.
This year, to celebrate 50 years of women flying in the Navy, the flyover was piloted by an all-female crew for the first time in history.
The women set off in a diamond formation, from Naval Air Station Lemoore, led by Lt. Commander Calli Zimmerman and Lt. Saree Moreno.
"It's an honour to be here with the team that we have and the people that are here representing so many squadrons across our flight line," said Moreno.
"If our faces and us flying over the Super Bowl gives one person one child that dream that motivation to do what we're doing, I think it's worth it."
Others to join Moreno and Zimmerman include Lt. Margaret Dente of North Salem, New York; Lt. Arielle Ash of Abilene, Texas; Lt. Naomi Ngalle of Springfield, Virginia; Lt. Jacqueline Drew of Waltham, Massachusetts; Lt. Suzelle Thomas of Birmingham, Alabama; and, Lt. Kathryn Martinez, also of Springfield, Virginia.
"I think that's a massive tribute to the women 50 years ago," Lt Jacqui Drew, who piloted an F-35C Lightning II stealth fighter, said. "Back then, they were just flying what they were able to fly," she continued. "Now we're in combat deployable squadrons which is huge strides for women."
Rihanna's halftime performance
For seven years, Rihanna has been absent from the music scene, devoting her time and energy elsewhere – primarily to building her billion-dollar brand, Fenty Beauty.
However, the multi-Grammy-winning superstar took centre stage at the Super Bowl LVII, whittling down 17 years of music into just 13 minutes.
Although the performance has sparked rumours about Rihanna returning to the music scene, with fans calling for a ninth album, she made it clear she had an ulterior motive.
In an Apple Music press conference, Rihanna attributed her decision to the importance of representation for Black people, her home country of Barbados and her son. "It's important for me to do this this year," she said. "It's important for representation. I want my son to see that."