Getting girls on track, with Julia Pallé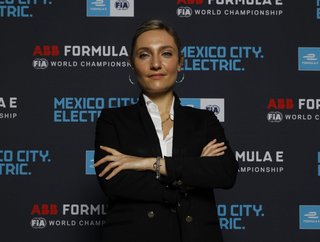 Julia Palle
Julia Pallé, Sustainability Director at Formula E, shares how the ABB FIA Formula E Championship is making motorsports an inclusive space for girls
Women have a thin history in motorsports, and even though it is one of the only sports permitting men and women to compete as equals, only 1.5% of the world's total licensees are women.
The FIA and Formula E are on a mission to increase this percentage, welcoming girls aged 8 to 18 to participate in the Girls On Track programme, supported by Formula E's long time partner ABB.
Julia Pallé, Sustainability Director at Formula E, is responsible for all of the organisation's sustainability actions, spanning four main pillars: environment, value for value, innovation and leadership, and social action – the latter of which features the Girls on Track programme.
Through this position, Julia stands as a role model for girls, while fiercely advocating diversity in the motorsporting industry. "I always wanted to work in an impactful industry and I have always loved cars, but I never pictured a career in motorsport for myself," Julia says. "To be honest, my career in motorsports happened through a complete alignment of stars.
"I was offered an amazing opportunity with Michelin, and I absolutely loved it! But I realised that, at the time, there were so few women in the industry and a lot of work to be done. From there, I made it my mission to ensure that women are welcomed into the motorsport environment, contributing their skills and talents to make motorsports a better place."
Promoting diversity on the track
FIA Girls on Track is a 360° project that helps girls to explore the various career opportunities available within the motorsport industry. Offering girls unique hands-on experiences, they are encouraged to explore all aspects of motorsport and beyond.
Although school-age girls are known to thrive while studying STEM subjects, research shows that, globally, men are more likely to lead careers in the industry. Girls on Track is specifically designed to inspire and encourage girls' interest in STEM subjects, with the aim of increasing female participation in these sectors, using motorsport as a medium of exposure.
"Girls can be anything in the motorsport industry – drivers, engineers, mechanics, presenters, press officers – so we want to break the perception that these careers are just for men," Julia says. "Motorsport has a reputation for not being a very accessible sport, but the Girls on Track programme wants to change that by giving girls the opportunity to learn and discover new skills."
"It's really important for us to show girls from a diverse social background that motorsport is a friendly environment, which is accessible to everyone – not just boys and men.
"To do so, we take Girls on Track as an entry point for diversity and inclusion, because then we can add the perspective of social representation, diverse backgrounds, sexual orientations, and so on. We do that by making sure that we have a wide representation of women in motorsport, and then ensure that everything is rolled out accordingly from there, to create a real diverse and inclusive environment."
Providing knowledge, skills and inspiration
Through the programme, girls are exposed to a number of workshops teaching them about the various roles in motorsport. At the Berlin E-Prix, girls could undertake various challenges, such as engineering-based activities where they could build mini cars and mechanical tasks teaching them how to change a tyre, while Formula E sponsors ABB organised workshops to show girls what motorsport can look like on a software site. Girls also had the chance to try coding-based activities, experience time with the media, and tackle logistical challenges – and, of course, no motorsport programme would be complete without go-karts and a track for the girls to race around.
These workshops provide a 'behind the scenes' look to fill in the gaps of how motorsport is usually presented. "The media typically doesn't present many women in the motorsport industry – for example, we don't see many female drivers," Julia says. "That's why it's so important that we're able to take girls into the paddock and onto the tracks to show them all the different careers that are available – not just the ones shown on TV.
"As they walk around the paddock, they'll see that there are actually a lot of women involved in Formula E; we have a very even gender split. It's crucial for us to break the barriers and open the doors to young and talented women, because honestly, it's important."
Opening up the track
Although Girls on Track is doing a fantastic job of raising the profile of motorsports to girls, the main aim is to support and inspire those who want to join the industry. Girls that attend the Girls on Track events receive follow-ups from their local branch of the FIA and are offered support, for example, when applying for university or choosing their first internship in racing.
"Watching the girls race around the track is the really exciting part of the programme, because you can see how much they love it from the look on their faces," Julia adds. "But it also gives us the opportunity to detect real talent, so if an individual is gifted, we ask if they'd like to be enrolled in the FIA Women in Motorsport Commission. Through this programme, girls would be supported to hopefully one day be part of the racing grade of Formula E or whichever championship they're drawn to."
"We get some amazing stories from girls who thank us for supporting them through the process of choosing their degree, which then lead them to the internship of their dreams. For me, that's how we make an impact. Ultimately, Girls on Track is our way of one, showing them that it's possible, and two, that there's no reason why it shouldn't be them."