Global Maven Access launches to empower women in Middle East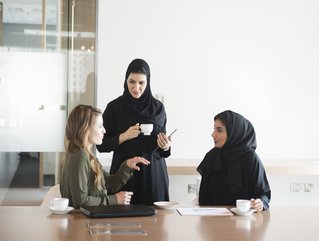 Credit: Getty Images
Sarah Omolewu launches Maven Marketing and Events to empower women and minority-led businesses, while bridging the gap between the US and the Middle East
Sarah Omolewu, Managing Director of Maven Marketing and Events, has joined forces with two other successful female entrepreneurs to launch Global Maven Access, an international consultancy that supports women and minority-owned businesses in the Middle East and the US.
Maven Marketing and Events, which backed the Middle East expansion of Tyra Banks' Smize Cream, has teamed up with Patrice King Brickman, Founder of Monumental Sports and Inspire Capital LLC and Kate Goodall, Co-Founder and CEO of Halcyon. Together, the trio wants to help women founders achieve global expansion while generating foreign direct investment across emerging markets.
Connecting the Middle East and the US
The company was founded to bridge the gap between East and West while paving the way for women and minority-led businesses in the US to reach their international growth.
"As the power dynamics shift globally, there's a lot for business owners to get excited about in developing markets that are access points to broader regions and bigger growth opportunities, and we want to help under-represented founders benefit from this," Sarah says.
"Patrice, Kate and I align around a simple truth – that empowerment is not enough. An overwhelming majority of women and minority founders are already motivated and confident but lack access" Sarah adds. "We need more "In-powerment," which means more access to ownership, decision-making authority, and most importantly, investment as they scale internationally."
The organisation, which hopes to expand to other regions in the next few years, provides clients with exclusive access to professional networks, including technical experts, policy and industry decision-makers and tactical support.
By using its growing portfolio of corporate and government clients, Maven Global Access is also able to support governments to design their strategy for investment promotion, while providing initiatives for their teams.
About Sarah Omolewu
For over a decade, Sarah Omolewu has helped brands establish a presence in the UAE market – with a particular focus on women and minority-led businesses.
In 2012, Sarah founded Maven Marketing & Events in Dubai and used her celebrity contacts to connect brands based in the Middle East to Hollywood. As a result of her success, she has been named in the top 100 most influential people in UEA for three consecutive years and is one of 50 Most Influential Women in the Arab World.
Sarah is also a founding member and advisory board member of Access Abu Dhabi, which focuses on engaging, enabling and empowering women and minority-owned companies to fast-track their global reach with expansion to Abu Dhabi.