#HereToLead campaign launched to elevate women in STEM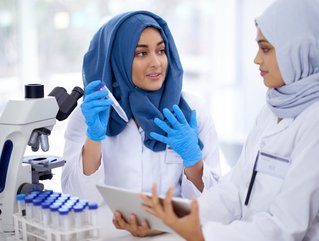 Credit: Getty Images
King Abdullah University of Science and Technology (KAUST) launched the #HereToLead campaign to recognise the achievements of women in Saudi Arabia
King Abdullah University of Science and Technology (KAUST) has launched a nationwide campaign #HereToLead to recognise the achievements and results of women. The awareness campaign aims to promote gender equality, while reinforcing women's advancement and empowerment in Saudi Arabia.
Running throughout the year, the campaign will showcase the success stories of Saudi women by highlighting the impact their work has had on society and the economy.
What benefits will the #HereToLead campaign bring?
In the Middle East, nearly half of STEM students are women, and campaigns such as #HereToLead is vital to continue empowering women.
"Through the #HereToLead campaign we want to recognise the valuable role and contribution Saudi women bring to our society and further encourage them to find their passion and continue to search for a place that meets their aspirations in work and life," Dr. Najah Ashry, vice president of KAUST Strategic National Advancement said.
"We have seen tremendous interest from women in Science, Technology, Engineering, and Mathematics (STEM) fields. Our firm belief is that through the #HereToLead platform, we will be able to give them a voice to empower and encourage more women to embark on this professional journey."
How is KAUST advocating women in STEM?
The university conducted a survey as part of the campaign, and found that Saudi women at KAUST said that the university fosters an encouraging environment that supports women's professional development and empowerment.
To continue this support, KAUST has provided a high-quality learning environment and prioritised collaborations with diverse students. So much so, that KAUST is one of the first Saudi institutes with women rising to executive leadership positions.
As a leader in STEM fields, the #HereToLead campaign will create opportunities for women in the Middle East, while raising awareness of the various roles available within the sector. It will also provide a platform for women to share their experiences.
"KAUST is fully aligned with Vision 2030, specifically with the Kingdom's objective of increasing the participation of women in the workforce," Professor Tony Chan, President of KAUST said. "We are proud to say that 40% of our students are women, and we remain steadfast in creating innumerable opportunities for them as they prepare to embark on their professional journeys.
"As a leading educational institute, we also have a responsibility to recognise and appreciate the accomplishments of our female staff as well as women across Saudi Arabia for the contributions they continue to make to society.
"We look forward to building on our efforts to date to recognize and empower women at KAUST and across the Kingdom through special initiatives that we plan to announce in the future."