Microsoft & Junk Kouture launch sustainable fashion scheme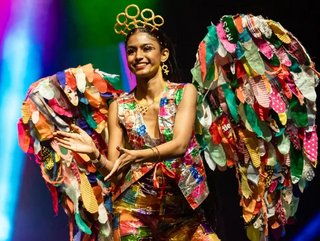 Junk Kouture
Tech giant Microsoft and sustainable fashion company Junk Kouture have partnered to educate the next generation on circular systems in fashion
Microsoft and Junk Kouture have partnered to educate the next generation about circular systems in fashion while highlighting how the tech and creative industries can work together to drive change.
Junk Kouture, which holds the world's largest youth sustainable fashion competition, challenges teenagers to design, upcycle and create high-end Kouture from 100% recycled materials. The 13-18-year-olds then showcase their designs at live events across the globe.
Educating the next generation
The competition focuses on creating the circular engineers of tomorrow, by taking junk and applying creativity and innovation to make garments.
The ambition of Junk Kouture is to enrich and empower the lives of a billion young people worldwide through creativity and sustainability over the next ten years.
"Young people can often feel helpless in the face of the climate crisis and that's why at Junk Kouture, we give them a global platform and the tools to use their voice and the creative outlet to showcase their solutions," says Troy Armour, CEO and Founder of Junk Kouture. "Our ambition is to reach 1 billion young people over the next 10 years, generating lasting behavioural change through creativity and education content around STEAM and sustainability that impacts our planet's future along the way."
Currently, the programme is active in six countries, including the United States, the United Kingdom, Ireland, France, Italy, and the United Arab Emirates, where it reaches over 850,000 students in 1,150 schools.
Masterclasses from Microsoft and Junk Kouture
By partnering with Microsoft, Junk Kouture will create Masterclasses that will be available on Microsoft's Flip platform, an app that allows videos to be shared and communities to be built. The app will connect masterclass experts from the world of fashion and sustainability with the global creative community of educators and students.
"Microsoft and Junk Kouture share a vision to empower the next generation and encourage future circular engineers through connected education", says Maruschka Loubser, Director of Global Brand Partnerships Microsoft.
"Our technology allies with Junk Kouture's mission and enables accessible information for students across the globe, no matter where they are. As a brand, Microsoft has a strong foundation in supporting, and empowering people and organisations in the fashion industry – to inspire creativity and innovation and build a more inclusive and sustainable future."
Junk Kouture will use the campaign to showcase designs from the 2022 programme and connect these two UN Sustainable Development Goals (SDG) that are a priority. The masterclasses will cover six key topics:
Quality Education with Back to the Future in Dublin
Responsible Consumption & Production with Tree of Life in Milan
Gender Equality with Soaring High in London
Climate Action with Gaia in Abu Dhabi
Sustainable Cities & Communities with Nightingale in New York
Reduced Inequalities with Divide and Conquer in Paris
Tony adds: "We create the next generation of changemakers, and that's why it is vital for us to collaborate with the right partners like Microsoft, that not only align with our vision and values but have the global experience to help us achieve this ambition. We are excited to have the team at Microsoft join us on this exciting journey."