Top 8 keynote speakers at Women in Business and Tech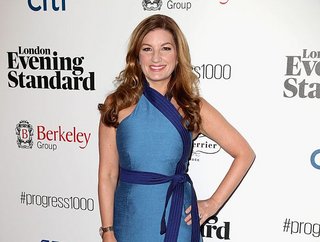 Credit: Getty Images/Chris Jackson
Looking forward to attending Karren Brady's Women in Business and Tech? Make sure you don't miss out on these top 8 keynotes from influential speakers
On October 12-13th, Karren Brady's Women in Business and Tech Expo, will take place at London's Excel, to inspire individuals who want to thrive in their careers or business.
The fourth edition of this female-led event promises to be bigger and better than ever, providing inspiration, guidance, recruitment opportunities, and business services to supercharge those looking to boost their professional journey.
March8 will be attending the event, with our very own Stacy Norman presenting a keynote on company culture on Thursday 13th October – so make sure you come along to show your support!
08: Fiona Hathorn, Co-founder and CEO – Women on Boards UK
Fiona is the co-founder and CEO of Women on Boards UK alongside advising a number of different boards and organisations.
Currently she is an Advisory Panel Member for the Financial Reporting Council, an Advisory Board Member to Spktral, advisor to Peel Hunt and Chair of Hanx's Nominations Committee. She is an expert in the areas of governance, regulation and talent management who has sat on both marketing and audit and finance committees.
Fiona is also a Patron of Fight for Sight and was formerly a director for Hill Samuel Asset Management.
07: Dr Alka Patel, TEDx speaker, GP, Lifestyle Doctor, Longevity Coach, Author and Podcaster – Lifestyle First
Dr Alka Patel is Founder of Lifestyle First®, Creator of The Lifestyle First Formula® and host of The Lifestyle First Podcast.
One of her greatest passions is to empower and equip passionate changemakers to connect to their D.N.A. and Discover, Notice and Activate who they are, what they want and where they are going so that they can outSMART stress and outLIVE life with Stress Modifying Age Reversing Techniques for a life of Longevity, Intention, Value and Energy- it's time to LIVE!
06: Vanessa Brady OBE, Founder & CEO – Society of British & International Interior Design (SBID)
Vanessa is an International Interior Designer and Business Design Consultant, with over thirty years of experience in B2B procurement in the design profession. Her client list range from Heads of State, Royals, Diplomats and celebrities to HNW individuals and investors from luxury to entry-level.
With an overall aim for improvement of interior design in commercial and residential sectors, quality of finish and function, Vanessa has vision, strong management skills and is a highly experienced interior designer.
Vanessa's keynote is titled: The 'Grooming Gap' - What looking the part costs women
05: Vanessa Vallely OBE, Managing Director – WeAreTheCity.com
Vanessa is one of the UK's most well-networked women and has provided keynotes on a variety of career related topics for over 500 companies worldwide. Vanessa is also one of the UK's most prominent figures in gender equality and often provides guidance and consultancy to both government and corporate organisations who are seeking to attract, develop and retain their female talent. Vanessa was awarded her OBE in June 2018 for her services to women and the economy.
Vanessa's keynote is titled: More than a side hustle - The journey from Corporate to Entrepreneur (and all the trials and tribulations in between).
04: Zara Janjua, Broadcast Multi-Hyphen / CEO of Everything
As an award-winning multi-hyphenate, Zara has developed 25 income streams, segwaying a range of industries in diverse and exciting roles from journalism, TV production, filmmaking, presenting, stand-up comedy, writing and delivering media training to companies like Dyson to sitting on the Equality Council for NatWest.
Zara has worked for BAFTA, NTA and RTS award-winning shows like This Morning on ITV and won a coveted spot in the BBC Comedy Writersroom, before being launched as a comedy writer at BAFTA.
03: Sarah Jenkins, Managing Director – Saatchi & Saatchi
Sarah joined Saatchi & Saatchi in December 2019 as Managing Director. She helps oversee the running of the agency, new business and key clients including Direct Line, GSK and Siemens
Previously a 9 year veteran of Grey London, she held the role of Chief Marketing Officer and Head of Account Management and was responsible for some of the agency's flagship creative accounts - including The British Heart Foundation and Lucozade.
Sarah's key note is titled: Igniting a generation: How investing in D&I is the true turbocharge for British business.
02: Sara Davies MBE, Founder of Crafter's Companion & Investor on Dragons' Den
Crafting queen Sara Davies MBE is the founder and creative director of Crafter's Companion and investor on BBC One's Dragons' Den.
Sara established Crafter's Companion while studying for a Business Management degree at York University. Today, Crafter's Companion is a household name in the industry. The company designs, manufactures and sells its craft-related products to customers across 40 countries and employs more than 220 people worldwide. It continues to celebrate its North East roots, with a head office and warehouse based in County Durham.
In 2016, Sara was presented with an MBE in the Her Majesty's Birthday Honours List, for services to the economy.
01: Baroness Karren Brady CBE, Vice Chairwoman – West Ham FC
Baroness Karren Brady of Knightsbridge CBE is one of the most influential, high profile and respected female business leaders in the UK. Through her keynote, she is keen to harness the talents, ambitions and drive of women in business. Karren will discuss how the business world has changed in the last 2 years, how women have had to adapt and what core skills and values are needed to succeed in this new post-pandemic world.