Endometriosis: Why my pain became my mission to help women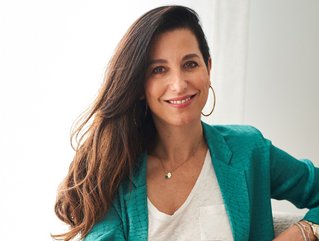 Ana G. Herrera
Ana G. Herrera, Founder and CEO of Hormone University & Glow Botanica, shares how living with endometriosis encouraged her to help 80% of other women
Do you ever think about how a difficult time in your life led you to learn about something you go back to? Hindsight is a powerful learning tool. I feel immensely lucky to have been able to find my purpose and my mission in life.
When you spend years with a chronic condition like endometriosis, pain becomes part of your life. You disguise it. You pretend everything is ok. You smile unconsciously, trained to create a useful defence mechanism to decrease internal stress and physical pain.
There's no randomness in life. I finally understand what Steve Jobs meant when he famously said: "You can't connect the dots looking forward; you can only connect them looking backwards. So, you have to trust that the dots will somehow connect in your future. You have to trust in something, your gut, destiny, life, karma, whatever. Because believing that the dots will connect down the road will give you the confidence to follow your heart, even when it leads you off the well-worn path, and that will make all the difference."
I have now connected those dots. Some years in the luxury hospitality industry helped me understand the importance of service excellence. Over 15 years in personal care and beauty launching brands in international markets have given me the experience of product launches, sales, marketing and distribution. Over a decade of debilitating pain with endometriosis, five surgeries, infertility, surgical menopause and other ramifications have made me well-versed in understanding what you might be going through in life, and how crucial it is for us to know about our hormonal health.
Starting a company is the toughest thing I have ever done, and yet, the most fulfilling. I have become a little obsessed with helping others with their hormonal health journey.
Understanding the facts
Fun fact: We spend on average 48 years dealing with hormonal phases – from the moment we have our first periods (around 12 years old) until the end of Menopause (around 60 years old).
Why did I not know about hormones and the crucial part they play in our everyday lives? Hormones are everywhere and most women I speak to do not know anything about them.
Education is the seed to change, so I created and launched Hormone University. We want everyone to learn about hormonal health. Our newsletter is called "The Waiting Room" for a reason, which is to empower you to ask the right questions when going to the doctor – and not only that – challenge what you are being told to do and what prescriptions to take. We challenge the status quo and offer you the research and knowledge you might need to advocate for yourself.
The mission of raising awareness
Polycystic ovary syndrome (PCOS) and endometriosis are suffered by 20% of women. Uterine cancer has been linked to hair chemical products. Sperm count is in persistent decline. The rise of endocrine disruptors is an urgent crisis we will be exposing.
Raising awareness about endocrine disruptors is an imminent initiative we are very excited about. We will be launching a Seal of Approval certification for products to show they are hormone-safe, and this initiative will be in collaboration with celebrity activists who love and support our mission. With thousands of consumer products on the market, it can be overwhelming to know what to do and which ones are safer and healthier for you and your family. It will be the one and only Seal to target safety with your hormonal health, and we cannot wait to contribute to a healthier world.
Our mission is to bring hormonal wellness relief to all women, at any life stage, so they can become the best version of themselves. You might be a 35-year-old woman going through early menopause or a 52-year-old woman with heavy periods. It was just not enough to bring education to the masses, so we spent two years researching ingredients and formulations.
Our philosophy is about targeting symptoms, and not age, hence the reason for Glow products, which launched this year, has gone through four studies and are helping thousands of women feel better. The testimonials we get are the strength that pushes me through. Women telling us: "This cream has changed my life" is the reason for us to exist. There are over 150 symptoms when we go through hormonal life stages, and we only use incredibly powerful natural ingredients, drug-free, and approved by our rockstar OBGYN and Oncologist, Dr. Elizabeth Poynor, PhD.
We need to stop placing women in age brackets and listen to what they are going through. We also need to stop correlating hormones with women – men have hormones too.
This is not just my story, it's the story of 3.3 billion women going through hormonal imbalances. We hope to empower you with knowledge and help you find relief.
Words: Ana G. Herrera, Founder and CEO of Hormone University & Glow