Women avoid discussing mental health due to job safety fears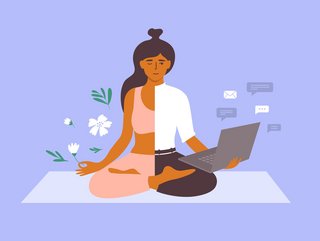 Credit: Getty Images/Olga Strelnikova
In a new study, Benenden Health shared that 44% of respondents agree that there is a stigma surrounding menopause in the workplace
More than a third (38%) of women in employment are not comfortable discussing their mental health in the workplace, due to the fear of losing their job, according to research from Benenden Health.
The not-for-profit healthcare provider found that this concern has risen by 1,000% over the last two years.
How does the menopause impact workplace mental health?
Benenden's research found a persisting lack of support for individuals experiencing the menopause in the workplace, with 44% of respondents agreeing that there is still a stigma around the topic.
The survey, which included 500 employers and 1,000 employees, found that women aged between 35 and 54 are experiencing a negative impact on their mental health due to the menopause. Figures increase for women aged between 55 and 64, as 47% report experiencing negative mental health in relation to the menopause.
Naomi Thompson, Head of Organisational Development at Benenden Health, said: "Whether they know about it or not, the vast majority of businesses either employ individuals that are currently experiencing the menopause or will do so in the future.
"Whilst the topic continues to be a difficult one to breach, discussions about the impact of the menopause need to become a priority in offices and workplaces up and down the UK. Only by looking after people can businesses truly succeed, which is why an appropriate strategy and support that makes a genuine difference should sit at the heart of plans.
"Often the support around the menopause that is required within the workplace is not too complex or expensive, so opening up channels of communication and taking steps to support employees can have a hugely positive impact on both individual wellbeing and overall business performance."
How are businesses supporting women experiencing the menopause?
Benenden Health's research has shown that businesses need to do more to support women experiencing the menopause – not only to reduce the physical effects but to help manage the mental health challenges it comes with, too.
To achieve this, the health company is calling for businesses to introduce dedicated support mechanisms and policies to support workers over the long term.
Meanwhile, women continue to lose confidence in their abilities and skills, take time off work, suffer from mental health conditions such as stress, anxiety, and depression, and may eventually leave the workplace because of these issues.
Businesses can partner with Benenden Health to provide employees with affordable, high-quality, and private healthcare, to ensure their mental health needs are met. This includes access to mental health helplines, 24/7 GP plus access to services and medical diagnostics to provide employees with peace of mind.
Additionally, members can receive support for mental health symptoms caused by menopause, obtain urogenital diagnoses, and utilise physiotherapy services.