8 minutes with Neurita Tequila founder, Lucy Smith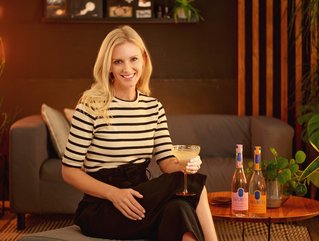 Lucy Smith
We caught up with Lucy Smith, founder of Neurita Tequila to find out more about her entrepreneurial journey
Lucy Smith, who is originally from New Zealand, has spent the last two decades working in various marketing, branding, and innovation roles for food and beverage companies around the world. Throughout her career, she has primarily worked for large corporations such as Nestle, Kellogg's, Danone, and McVitie's. Despite her successful career, Lucy always felt the urge to create a brand of her own, and a few years ago, she decided to take the leap and transition into consulting and start-ups. Along with co-founding ADD PSALT, a food and beverage brand accelerator that aims to promote diversity and help entrepreneurs secure retail listings and investment, Lucy has found working with start-ups through consulting and ADD PSALT to be an enriching experience.
We caught up with Lucy to find out more about her journey as an entrepreneur.
Hi Lucy, what influenced you to launch Neurita Tequila?
The idea for Neurita is the combination of what I call a few 'jigsaw pieces'. I have always loved a Margarita, in fact, Tequila is the only spirit I have ever drunk through my love of a good Marg! A few years ago I started seeing 'chic' margaritas popping up on my Instagram feed and being used as a 'status symbol' for a more sophisticated ladies and couples' night out. I started looking more closely into the category and saw that Tequila is having a huge boom in the USA and is penned as the next big spirit. Interestingly women were driving a lot of this growth through their use of tequila in cocktails, but when I looked at the Tequila brands in the UK market they were all very traditional, stoic and masculine. The only 'tequila drinks' I found on the market were pre-mixed, juvenile sugary cocktails targeting women. The category felt quite dated.
I spoke to different family and friends to validate the idea, it also helped me to land on the insight that everyone ' loves a Marg' on a night out, but had no idea how to make it / found it complicated due to the number of ingredients and steps needed.
Neurita Tequila is crafted to make Margaritas as delicious and simple as can be
How have you ensured your brand stands out in a competitive market?
We have ensured that every touch point is unique and has a point of difference in the market. From the bright yet chic packaging to the taste and service Neurita has a point of difference. We are the only Tequila in the UK that has been crafted to be the perfect base for the UK's number 1 trending cocktail – The Margarita. We work with a family-run distillery in Jalisco, Mexico to develop a Tequila base that is perfect for Margaritas. Our range of fruit infused Tequilas not only makes Margaritas delicious but also simple to make and lower in sugar. No triple sec is needed in a Neurita Margarita as the flavour is already in the Tequila, thus a Neurita Margarita is fewer steps to make, is lower in sugar and is more cost effective for our consumers.
The packaging and brand aesthetic is also very unique as it bridges the gap between a 'chic yet fun' – something that current brands are classed into 1 of 2. It's very difficult to be both, which is something I was dead set on achieving.
What has been your greatest success with Neurita Tequila?
Getting the product to market was an achievement in itself. I definitely have a new-found appreciation for the dedication and resilience needed to launch a new brand. There are so many moving pieces and curve balls, the things you think will be an issue aren't and those that you think won't be are. From here, we've had some amazing PR and coverage in a very short time I think simply due to the unique look of the brand. We've also hit some key sales targets quicker than expected, such as a best seller on Master on Malt and the number-one flavoured Tequila on Amazon in the lead up to Christmas after only a few weeks on both platforms.
Likewise, what has been your greatest challenge?
Since we started creating Neurita there have been so many changes we've needed to contend with, from the pound falling (not great when you're buying Tequila in USD), material shortages, and supply chain delays – the ballpark dramatically changed in a very short space of time. The challenge was having to keep adapting launch plans and evolving with these elements. In saying this, I think it's the case for any brand big or small in today's world.
What advice would you give to your 15-year-old self?
If you have an itch, scratch it as you live one life. The motto I live by is if someone has done it, I can do it or at least have a go. Taking a risk and throwing yourself in the deep end can feel uncomfortable, but it is always where the magic happens!
What are three attributes that you possess that have helped you with your career?
Visualising where I want to get to, and ignoring the noise around getting there ( i.e. don't get distracted by negative views or points of view).
Being adaptable to change, change will happen whether you like it or not so get on board the train and embrace it. Be comfortable with feeling uncomfortable.
Knowing that 2 minds are better than 1, 3 or 4 minds are even better. I've tried to start brands before but always came to roadblocks as I was working as a solo entrepreneur vs in a team. I knew I was on to something regarding the idea for Neurita Tequila but also knew I needed the right people committed from the start to help get it off the ground.