Meet the family leading the fight against period poverty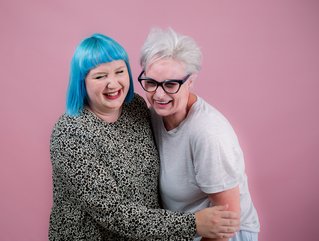 Kate Smith and Celia Hodson
Period poverty is a global issue. One award-winning family enterprise is leading the fightback, on a mission to ensure no one experiences it ever again
Celia Hodson and her daughters Kate and Bec know the harsh reality of period poverty all too well. Like so many people worldwide, experiencing poverty forced them to make difficult decisions no parent and their children should ever have to face. Now, they find themselves at the forefront of a fight that, despite appearing uphill, is one they know they can win.
At a kitchen table in 2018, Hey Girls was born. A social enterprise dedicated to eradicating period poverty, improving period dignity and achieving period equality in the UK.
Its premise was simple. An organisation that would match every purchase of its environmentally-friendly period products as a donation to people facing period poverty – with 100% of its profits going to the cause while encouraging governments to bring forward positive change.
Just five years later, the multi-award-winning social enterprise has expanded into Australia – and has donated a staggering 30 million period products to its network of community partners, including foodbanks, homeless shelters and refuges.
But the team shows no signs of slowing down.
The rise of period poverty
The number of people experiencing period poverty has increased through the pandemic and the cost of living crisis – and the need for Hey Girls' work is higher than ever.
"We are incredibly proud of everything we have achieved," Celia says. "But that doesn't mean we're foolish enough to think this fight is over. The fact is, it is far from it."
Much of Hey Girls' trading comes thanks to its commercial partners, businesses who purchase its period products to supply in their staff toilets. And the size and scale of those businesses are continuing to increase.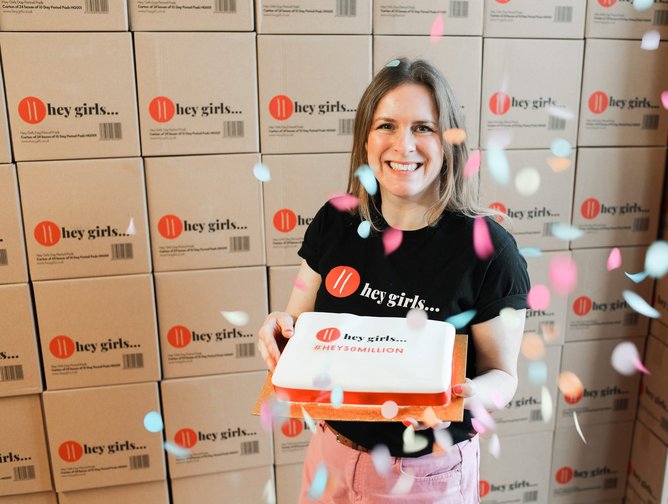 Hannah Cooke
Celia adds: "We have partnered with so many incredible businesses – including some of the biggest names in construction, banking, insurance and more.
"Every purchase they make goes directly to supporting our community partners – and nothing makes us prouder than knowing our products are helping those in need."
Kate takes charge of Hey Girls' donations services, building and supporting a network of almost 300 community partners in the UK.
Many of those are charities who have found demands for their services significantly increase in the face of the global financial crisis.
"We see through our community partners just how serious the problem we face is," Kate says. "More organisations are approaching us for support and we are doing all we can to ensure our products are available for those that need them."
One in 10 people in the country currently lives in period poverty, and the problem is even worse in Australia.
Bec now leads the team's operations from her Sydney home.
"We always knew how bad the problem was in the UK, but we had no idea just how bad things were in Australia" she says. "A staggering one in five people live in period poverty here.
"It is heartbreaking to know so many people are struggling. We have a lot of work to do, but we know we can replicate our successes in the UK and make a real impact in Australia."
Regardless of their location, the Hey Girls team know there are two things needed to succeed in the fight against period poverty – and that is the support of businesses and governments.
Free access for all
In their native Scotland, they played a key role in the implementation of the world's first legislation that made access to free period products a legal right for all. Numerous local authorities have partnered with Hey Girls, and the team are putting pressure on lawmakers and Westminster to follow suit.
But businesses also have to play their part in achieving period dignity, regardless of any changes to the law, Celia adds.
She says: "It is so important businesses not only play their part in the wider fight against period poverty but show support to their employees who may be struggling.
"So many of us have experienced being caught short – and no one should have to make difficult choices in the office to see them through to closing time. Providing free products at work is the difference between a good day at the office and the worst day of their career.
"Introducing period dignity schemes is a small and relatively inexpensive gesture that makes a real difference to employee wellbeing, engagement and morale.
"Whether you are in the UK or Australia, our teams are here to help. You are the ones who can help free our communities from period poverty once and for all."