Rising Star, Sally Wynter, Founder of MUHU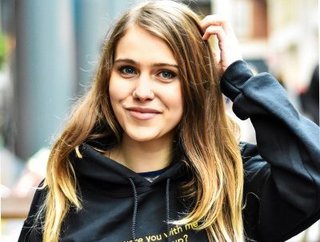 Sally Wynter
Growing up on free school meals & being the first of five to attend university, Sally Wynter overcame a difficult childhood to become a serial entreprener
Sally Wynter has a keen eye for opportunity. After a turbulent upbringing, Sally vowed to create a better life for herself by defying all odds and making it in the entrepreneurial space. Now, Sally aims to help elevate others who are underrepresented to ensure everyone is given equal opportunities to thrive. We sat down with Sally to discuss how she paved her way to success, while also finding out more about her latest business venture, MUHU gin.
Hi Sally, please tell us a little about yourself and your entrepreneurial journey.
I discovered the world of entrepreneurship at age 22 when, after graduating, I started freelancing at a small production company. It was my first exposure to someone making money in an unconventional way and got my brain ticking with ideas.
My initial ideas were all surrounding businesses we used – think agencies supplying film extras or costume rentals – but, according to the people I was working with, these were all 'meh' ideas that wouldn't make money.
My mind wandered to bigger and better things, and I decided to go to my first networking event for 'wannabe' founders.
What was the inspiration behind MUHU and what makes it unique?
I'd been messing around with mixing drinks at home for a while, when, in late 2018, I saw CBD blowing up online. I noticed that there were two issues making potential customers hesitant about buying a CBD product for the first time:
The stigma around cannabis (despite CBD not being psychoactive)
The bitter, unpleasant-tasting oils
I had the concept in my head that you shouldn't overwhelm a consumer with too many new things. British consumers weren't used to consuming things in oil form and CBD was seen as 'risky'. So, I decided to combine CBD with something Brits were already buying en masse – gin!
Are we right in thinking that you then launched with only £1,000?
Yes! It was a tough experience but it was my only way to launch, so I taught myself everything using the internet and calling people up to ask for advice. I spent money only where I had to – trademark applications, a website domain – and self-taught everything else.
My biggest superpower was being a good storyteller. This meant I was able to leverage (free) PR to drive sales, brand awareness and even investment. I also used clever tricks like using pre-orders to fund the first production run.
There was a lot of creative hustling going on combined with relentless hard work and long hours, which regularly seeped into weekends.
What have been the greatest challenges you've overcome as an entrepreneur?
Each week produced new and more difficult challenges because I learned as I went along. For example, I didn't know anything about fundraising before I started to do it, and I hadn't heard of an 'exit' for months before I had an offer on the table. But I would say overcoming low self-confidence was my greatest challenge. My biggest barrier, at each and every step, was fighting that voice that told me I wouldn't succeed.
Likewise, what's been your greatest success?
The business being acquired was life-changing and definitely what other people would pinpoint as my 'greatest success'. For me, the personal journey I've been on is right up there alongside the exit – it's been such a transformation.

I grew up on free school meals and didn't have any positive role models – in work or in business. Everything I've achieved means that much more because I did it against the odds.
How and why are you passionate about inspiring entrepreneurs from working-class backgrounds?
Working-class people have as much talent but just a fraction of the opportunity; the same goes for other groups who aren't white, wealthy or English-speaking. The entrepreneurial world was a bit of a culture shock for me. Growing up, I thought if you had £100k to your name, you were crazy rich. But when I started going to networking events, I heard people talking about friends and family funding their idea with up to £200k – like it was nothing!
People that grow up poor, as I did, often make for better, more resourceful entrepreneurs – they know the value of money and often have an endless drive. Diversity is a great thing for business and society – whether we're considering the moral or economic argument.
What advice would you give to other entrepreneurs, especially those from working-class backgrounds?
Don't listen to people around you that say you won't go far. If you want it bad enough you can do it. Constantly push yourself out of your comfort zone and keep your curiosity high – there are endless resources online that don't cost a dime. Most importantly, don't believe that voice that says you're undeserving – human value isn't measured by wealth.
What would you say has been the secret to your success?
Determination. That I would live a different life from the one I was born into. That I would have the freedom to choose how to spend my time in this relatively short life!
I would say an endless curiosity has also been a big driver. I love to learn and test myself in difficult scenarios. I can't stand letting anxiety win so I constantly push myself to do something if I notice it.
What plans do you have for future entrepreneurial ventures?
I'm about to launch a side hustle, which is a 'how to do your own PR' course for business owners, that's vetted and delivered by journalists. It's incredible how much success PR has brought for me – and people just have no clue where to start!
For my next big start-up, I'm looking at the digital healthcare space. Women have been ignored and underserved by traditional healthcare routes for too long. I'd like to help them access guidance and treatment for things like menopause and pregnancy.